4 Consumer Stock Stories for Savvy Investment Shopping on Tuesday
Sears Holdings Corp. (NASDAQ:SHLD): Closing price $56.20
The new chief executive  of Sears Canada Inc., Douglas Campbell, will consider bailing on more stores, including the crown jewel store in Toronto's Eaton Centre, if he is contacted with an offer that helps reinforce the struggling retailer's business. Campbell unexpectedly took over the job at Sears from Calvin McDonald on September 24, and indicated in an interview he would see selling the lease for the flagship Eaton Centre outlet, in which the retailer houses its head office, no differently than any other lease, as he explores his options for "maximizing the value" of the firm's assets.

Starbucks Corp. (NASDAQ:SBUX): Closing price $80.92
The chief of Pizza Hut's delivery service in the United Kingdom, MarkFox has been recruited by Starbucks to assume the role of its UK unit's managing director. According to the Telegraph, the transition will take occur in January. Fox replaces Kris Engskov, who is the head of Starbucks across Europe, the Middle East, and Asia. The shakeup comes while Starbucks UK recovers from a public relations snafu earlier in 2013, in which it was accused of not paying its fair share of taxes.

Amazon.com Inc. (NASDAQ:AMZN): Closing price $332.54
Amazon's website says that its minimum order size eligible for free shipping has changed to $35. This marks the first time in over a decade that Amazon has raised the minimum order for free shipping in the United States, observing that, "During that time, we have expanded free shipping selection by millions of items across all 40 product categories. Look for "FREE Shipping" on product pages to discover eligible items."

General Motors Co. (NYSE:GM): Closing price $35.44
A panel appointed by the government of India looking into General Motors' recall of 114,000 Tavera vehicles says that the automaker flouted testing regulations, according to a senior official who has read the report. The unnamed official told Reuters that, "The report has pointed out that it is in the nature of corporate fraud. It says only the [automaker] was responsible for whatever happened," and that there was no wrongdoing seen on the part of the testing labs.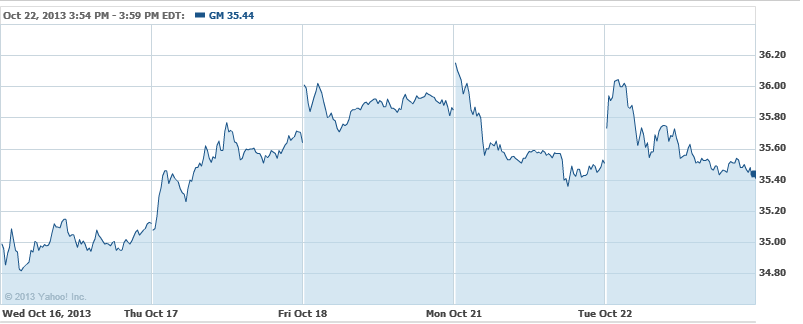 Don't Miss: Here's Why J.C. Penney Was Cursing Twitter Last Week.