4 Consumer Stock Stories for Savvy Investors
The Boeing Company (NYSE:BA): Current price $76.34
Boeing's flagship 787 Dreamliners are flying a rough sky, as another one of the planes has experienced an equipment malfunction. A fuel leak developed on a loaded 787 belonging to Japan Airlines Co. that was ready for takeoff from Logan International for a flight to Tokyo. As fuel was spotted spilling from a wing, the planes returned to the terminal. Just before that, crew members reported an electrical fire on another Japan Airlines 787, also at Logan, while at the gate. The total two-day damage from these two incidents has resulted in a 4.6 percent fall in Boeing's shares

Are these stocks a buy or sell? Let us help you decide. Check out our Stock Picker Newsletter now.
Procter & Gamble Co. (NYSE:PG): Current price $68.86
The current P&G Director Johnathan Rodgers is not standing for re-election at the firm's annual shareholder meeting in October, choosing instead to retire from the Board at that time. At the same time, the company has named Terry Lundgren, Chairman, President and CEO of Macy's (NYSE:M), to its board of directors effective immediately.
Toyota Motor Corporation (NYSE:TM): Current price $95.60
Futuristic cars that drive themselves are nothing new to what used to be science fiction, but two of the world's biggest automakers are designing vehicles that are tinkering at the edge of that fantasy. At the 2013 International CES electronics show in Detroit, Toyota and Volkswagen each said on Monday that they are researching autonomous driving features. At first, these functions should take over the more mundane aspects of driving, such as parking. Other features are considerably more helpful, like preventing drivers from getting involved in crashes. However, for the time being, both carmakers believe drivers will still need to play some role.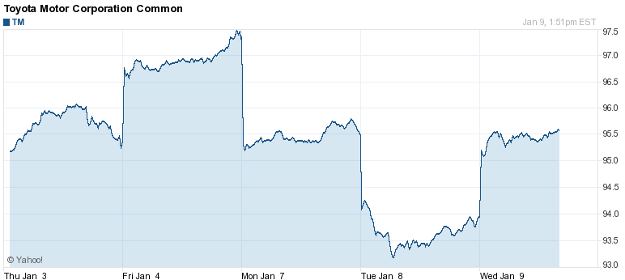 Amazon.com (NASDAQ:AMZN): Current price $267.53
Chief Executive Jeff Bozos would rather reward investors through free cash flow than by growing the margins. In an interview with the Harvard Business Review that was posted online on January 3rd, Bezos commented that "Percentage margins are not one of the things we are seeking to optimize. It's the absolute dollar free cash flow per share that you want to maximize. If you can do that by lowering margins, we would do that. Free cash flow, that's something investors can spend." Presently, Amazon is spending money to improve a network of warehouses and to improve cloud-computing facilities that provide customers a cheap and safe manner through which to outsource data centers.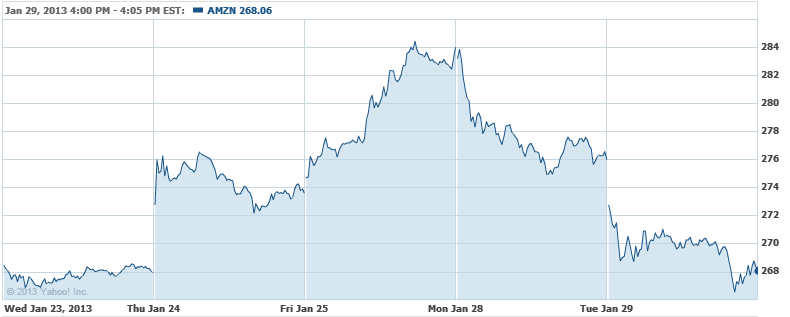 Don't Miss: Does Wal-Mart Have a Breakthrough iPhone Plan?