4 Consumer Stock Stories for Savvy Midweek Investment Shopping
Williams-Sonoma, Inc. (NYSE: WSM): Closing price $56.97
On Wednesday, Williams-Sonoma announced operating results for the 13 weeks ended August 4, compared with the 13 weeks ended July 29, 2012. Net revenues swelled by 12.3 percent to $982 million versus $874 million year-over-year, with comparable brand revenue growth of 8.4 percent. Operating margin stood at 8 percent, equal the same period in 2012. Diluted earnings per share increased by 14 percent to 49 cents, compared to the second quarter of 2012.
President and Chief Executive Laura Alber commented, "We are on track to achieve another record year of revenue and deliver a double-digit increase in earnings per share. Due to our performance year-to-date and our confidence in the remainder of the year, we are raising our fiscal year 2013 revenue guidance to a range of $4.26 billion to $4.34 billion and our non-GAAP diluted EPS guidance to a range of $2.69 to $2.79."
Are these stocks a buy or sell? Let us help you decide.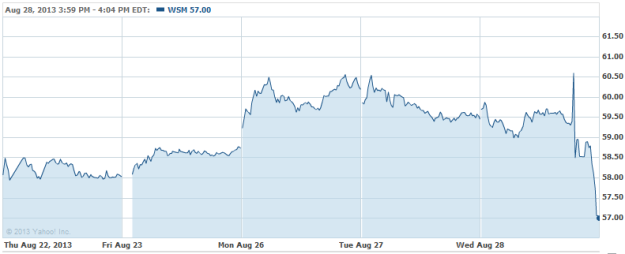 Buffalo Wild Wings Inc. (NASDAQ:BWLD): Closing price $105.12
It was announced Wednesday that Buffalo Wings will expand to the Philippines with the company reaching a development agreement with one of that country's premier restaurant operators to open restaurants later in 2013. The brand had previously announced its international expansion plans to Canada, Mexico, and the Middle East. Construction on restaurants is set to begin this year, with locations planned for Makati City and the Metro Manila area.
Are these stocks a buy or sell? Let us help you decide.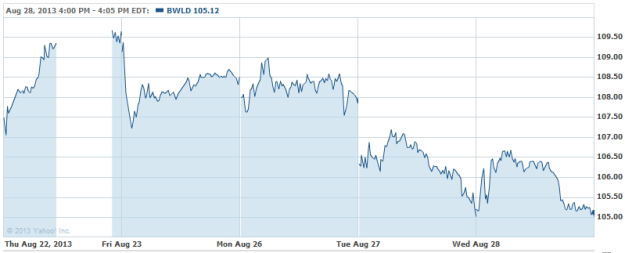 Groupon Inc. (NASDAQ:GRPN): Closing price $10.04
In a Tuesday interview, Chief Executive Eric Lefkofsky said that Groupon is planning a network of North American warehouses suited for its physical goods division, pushing the coupon company into more direct rivalry with Amazon.com. Lefkofsky said that the Chicago firm is already checking out one space in Kentucky and is thinking of adding more over time. Groupon's "Goods" unit, which sells products like teeth-whitening pens and memory foam pillows, has been performing well in North America — close to tripling revenue to $186 million in the most recent quarter year-over-year.
Are these stocks a buy or sell? Let us help you decide.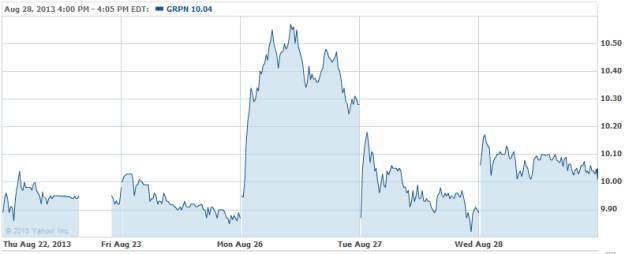 CBS Corp. (NYSE:CBS): Closing price $51.58
Spokesman Justin Cole for the Federal Communications Commission said in an e-mailed statement that the agency is working to settle a fee dispute that has kept CBS Corp. programming off Time Warner Cable Inc. systems since August 2.
Cole said that, "The commission is engaged at the highest levels with the respective parties and working to bring the impasse to an end. We urge all parties to resolve this matter as quickly as possible so consumers can access the programming they rely on and are paying for." The statement provided no other details. However, the FCC's acting chairwoman Mignon Clyburn has said that the agency does not have the authority to intervene.
Are these stocks a buy or sell? Let us help you decide.