4 Consumer Stock Stories for Savvy Midweek Investment Shopping
The Boeing Co. (NYSE:BA): Closing price $106.37
On Wednesday, Boeing and FedEx Express, an operating business of FedEx Corp., celebrated the delivery of the Memphis-based express shipping firm's first 767-300 Freighter. The delivery conforms to the FedEx strategy to modernize its fleet using more efficient freighters.
Executive Vice President, Air Operations, FedEx Express, said that,"Today's delivery of our first Boeing 767 Freighter is another step forward in our fleet modernization strategy. The 767 is approximately 30 percent more fuel efficient and has unit operating costs that are more than 20 percent lower than the aircraft they will replace. The net effect is an aircraft that is more affordable to operate and has lower carbon emissions because of better fuel efficiency."
Are these stocks a buy or sell? Let us help you decide.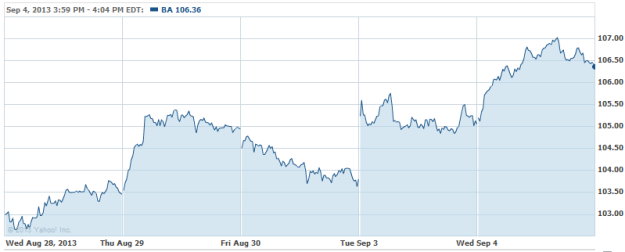 General Motors Co. (NYSE:GM): Closing price $35.85
For the month of August, General Motors, Ford Motor Co., and Chrysler Group all posted double-digit sales gains while consumers continued to take advantage of low interest rates and favorable lease arrangements so as to replace aging cars. Analyst Elaine Kwei at Jefferies said that the month's sales continued to prosper from the housing recovery and consumer confidence.
GM reported that it sold 275,847 vehicles in the United States during the month, up by 14.7 percent compared year-over-year. Vice President, GM's U.S. sales operations, Kurt McNeil commented that, "Based on everything we see, the economy is on solid footing, which means the industry should remain strong."
Are these stocks a buy or sell? Let us help you decide.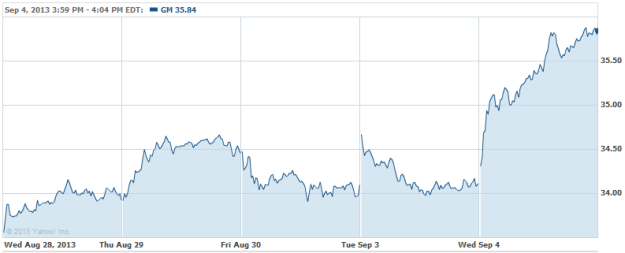 United Parcel Service Inc. (NYSE:UPS): Closing price $86.55
UPS said Wednesday that it will acquire the assets and operations of two Costa Rican-based firms — the small package delivery company Union Pak de Costa Rica, S.A. and the brokerage firm SEISA Brokerage. Both businesses have long-standing relationships with UPS as its authorized service sontractors. The additions will permit UPS to better link up with Costa Rica's expanding economy to regional and global markets via the UPS network. The buyer anticipates the completion of the transactions in the fourth quarter, subject to the usual closing conditions. Financials of the deal were not divulged.
Are these stocks a buy or sell? Let us help you decide.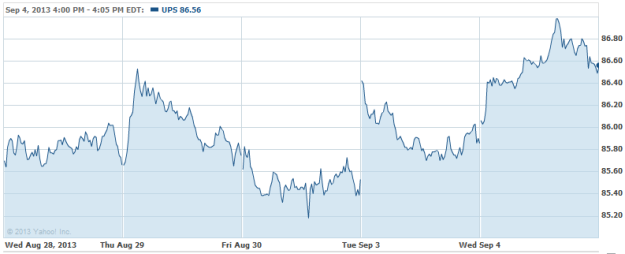 Barnes & Noble Inc. (NYSE:BKS): Closing price $13.43
Barnes & Noble's NOOK Media LLC on Wednesday announced notable new low pricing for the highly acclaimed NOOK HD and NOOK HD+ tablets in the United Kingdom. Starting today, customers may buy the 7-inch NOOK HD for 79 euros (8-gigabyte) and 99 euros (16-gigabyte), while the 9-inch NOOK HD+ tablet is available for 129 euros (16-gigabyte) and 149 euros (32-gigabyte), both online at NOOK.co.uk and at high street retailers spanning the UK while stocks last.
Are these stocks a buy or sell? Let us help you decide.