4 Consumer Stock Stories For Savvy Thursday Investment
Target Corporation (NYSE:TGT): Closing price $68.79
The retailing giants Target Corporation and The Home Depot, and the diabetes drug maker Novo Nordisk, are now the most recent firms to cut ties or distance themselves from the celebrity cook Paula Deen, as fallout builds from accusations that the chef used racial slurs in the past. Target said on Thursday that it will phase out its Paula Deen-branded cookware, along with other items, which were sold both on its website and in its stores. Target spokeswoman Molly Snyder said that "Once the merchandise is sold out, we will not be replenishing inventory."
Are these stocks a buy or sell? Let us help you decide.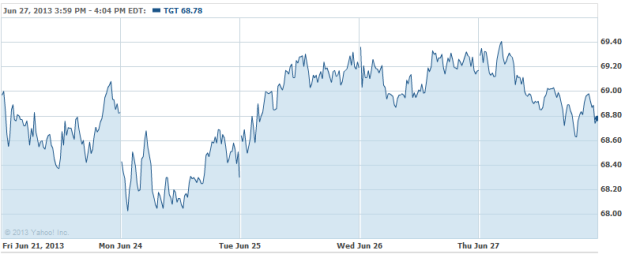 Amazon.com (NASDAQ:AMZN): Closing price $277.55
Amazon has announced an expanded multi-year content licensing arrangement with PBS Distribution, which is a division of The Public Broadcasting Service, thus extending the archive of television shows and films presently available on its streaming video site, Amazon Prime Instant Video. The site is a digital video streaming and download service which permits users to rent, purchase, or subscribe to a range of video content. Amazon is investing a notable amount on licensing agreements for movies and TV shows in order to attract more viewers to Prime Instant Video, and during the past 12 months, has entered into several deals with every major Hollywood studio, together with some of the major cable networks.
Are these stocks a buy or sell? Let us help you decide.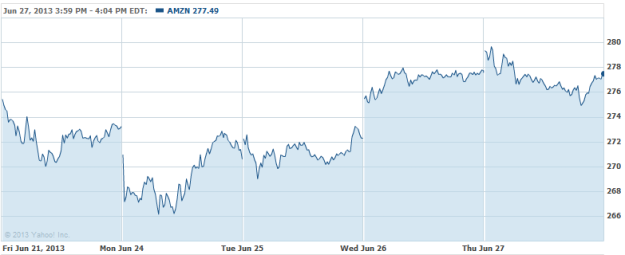 Nike (NYSE:NKE): Closing price $62.32
On Thursday, Nike reported a higher quarterly profit, thanks to hefty sales gains in North America, and the company also said that worldwide orders for delivery later in 2013 were up. Orders for Nike-branded shoes and clothing set for delivery between June and November rose 8 percent. In China, futures orders rose by 3 percent. For the fourth quarter which ended May 31st, Nike earned $668 million, or 76 cents per share, compared with $549 million, or 60 cents a share year-over-year from 2012.
Are these stocks a buy or sell? Let us help you decide.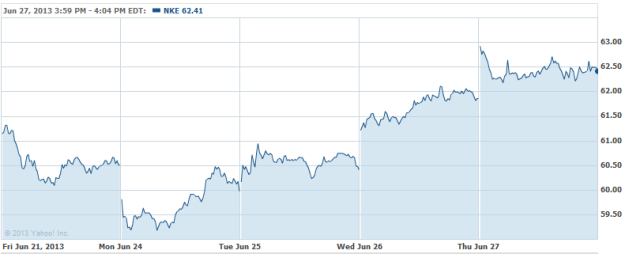 Canadian Pacific Railway Limited (NYSE:CP): Closing price $120.74
Five Canadian Pacific rail cars transporting hazardous petroleum products derailed on a broken bridge over the swollen Bow River in Calgary, on Thursday. The cars are perched perilously close to the water, while emergency crews hurried to prevent a spill; the cars contain petroleum distillate, which is a flammable light oil product utilized in paint and polishes, among other uses. The operator Canadian Pacific Railway said that the tanker cars left the tracks but remained upright and were not leaking.
Are these stocks a buy or sell? Let us help you decide.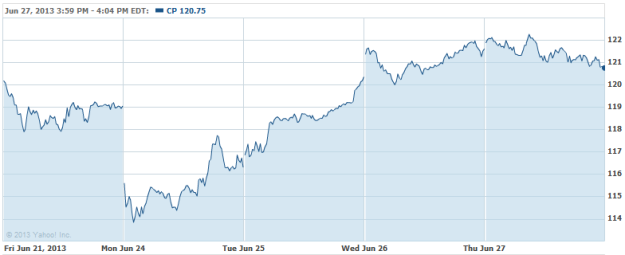 Don't Miss: Dream Interrupted: Another Boeing 787 Grounded.