4 Consumer Stock Stories For Savvy Tuesday Investment Shopping
Barnes & Noble Inc. (NYSE:BKS): Closing price $14.61
Barnes & Noble founder Leonard Riggio said Tuesday in a filing that he would drop the plan he posited in February to purchase the firm's website and close 680 stores, which would have effectively broken up the number-one domestic bookstore chain. Riggio is also Barnes & Noble's chairman and largest shareholder. The shares lost more than 12 percent on the day, erasing their gain for 2013, while the firm also posted a fiscal first-quarter loss that surpassed consensus.
Are these stocks a buy or sell? Let us help you decide.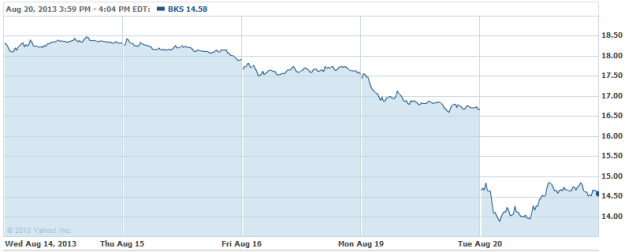 Amazon.com Inc. (NASDAQ:AMZN): Closing price $287.09
Amazon.com finds itself facing strong competition from Utah-based Overstock.com, which is an American online retailer that mostly sells products which do not happen to be books. Of late however, Overstock moved into print titles and has cut prices sharply, saying that it will match Amazon's prices on all its printed books. What is more, 15-percent rebates on book purchases will be given to members of its $20-annual free-shipping loyalty club. In the face of this onslaught, Amazon has been taking every possible measure through which to expand its catalog, and is still one of the favorite sources for book lovers in the rapidly-growing e-commerce market.
Are these stocks a buy or sell? Let us help you decide.

Netflix Inc. (NASDAQ:NFLX): Closing price $273.29
On Tuesday, Netflix and The Weinstein Co. announced a multi-year deal that makes the former the exclusive domestic subscription television provider for new movies from The Weinstein Co. starting in 2016. The arrangement for first-run rights to Weinstein films after they appear in theaters will provide new content to Netflix to help it gain subscribers and also compete with cable channels like HBO and Showtime. Financials of the transaction were not divulged. The Weinstein Co. is known for releasing awards season contenders like Oscar winners The Artist and The King's Speech.
Are these stocks a buy or sell? Let us help you decide.

Office Depot Inc. (NYSE:ODP): Closing price $4.24
Office Depot said that negotiations begun late last week with the dissident shareholder Starboard Value LP have not come up with an agreement prior to Wednesday's shareholder  meeting. The parties have been stalemated in a bitter proxy fight as Starboard, the firm's biggest shareholder with around a 15-percent stake, has suggested that Office Depot improve its performance before its planned merger with OfficeMax Inc. For its part, Office Depot said last week that it would invite any of the three Starboard nominees recommended by the proxy advisory firms to join its board.
Are these stocks a buy or sell? Let us help you decide.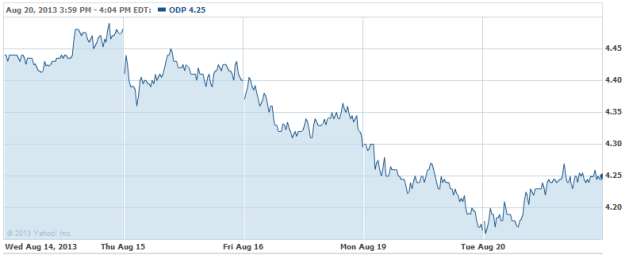 Don't Miss: Starbucks Wants to Have More Coffee with India.