4 Consumer Stock Stories for Savvy Tuesday Investment Shopping
Campbell Soup Co. (NYSE:CPB): Closing price $42.37
In a report that should please Campbell Soup Co. and its investors, NPD Group says that soup is on the rebound with American consumers. According to NPD's SupplyTrack tracking service, aggregate dollar sales of soup shipped by means of broadline foodservice distributors to operators rose by more than 2 percent in the year ended in July versus the same period one year ago; unit shipments also increased, by 2 percent.

Tesla Motors (NASDAQ:TSLA): Closing price $177
Tesla opened its first showroom in China over the weekend, accepting preorders from customers at its Beijing location. The showroom opened to the public on Saturday, displaying two Tesla Model S four-door sports cars, one black and one white. Product specialist Ma Li said, "We have seen roaring interest since the preorder started in late August. The intended buyers can sign a preorder contract and put down a $40,000 deposit to add their names to the waiting list."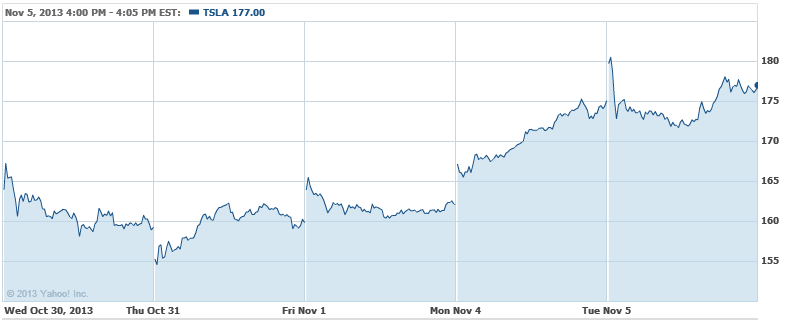 Burger King Worldwide (NYSE:BKW): Closing price $21.13
Burger King is returning its "Big King" sandwich to its menus. The giant sandwich looks very much like the popular Big Mac made by competitor McDonald's. Burger King says that the item is an addition to the permanent menu debuting this week. The fast food chain previously offered the Big King as a limited-time offer, but it did not have the middle bun then, as it does now.

Starbucks Corp. (NASDAQ:SBUX): Closing price $81.99
Prices at Starbucks in the United Kingdom have risen, with lattes, cappuccinos, and filter coffee increasing for the first time in three years. The price of filter coffee was increased by 5 pence, while lattes and hot chocolate were raised by 10 pence, according to an emailed response to Bloomberg questions. Prices for other beverages went up for the first time in two years. Starbucks said: "The cost of doing business is going up, from wages to milk to energy, so our prices have to increase slightly. Coffee commodity costs historically comprise less than 10 percent of our overall store operating and occupancy expenses."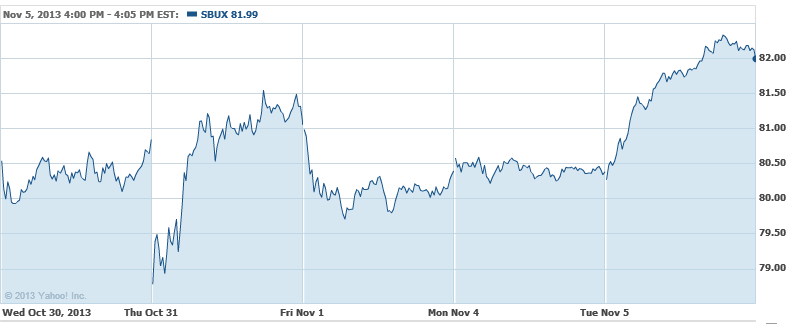 Don't Miss: J.C. Penney: In Trouble or Falling into Hot Water?