4 Consumer Stock Stories For Savvy Weekend Investment Shopping
General Motors Co. (NYSE:GM): Closing price $35.06
The next Superbowl will see the return of GM ads, as the iconic automaker says that its Chevrolet brand is coming back to next year's game, because it falls in the middle of a number of new model introductions. GM said in May last year that it was walking away from the 2013 National Football League championship game, put off by a price increase from the CBS network that was too much; the company would not pay more than $4 million for 30-second TV spot. But later, GM dismissed the marketing director who had made the decision, largely linked with a huge advertising contract with Manchester United.
Are these stocks a buy or sell? Let us help you decide.

Weyerhaeuser Co. (NYSE:WY): Closing price $27.81
On Friday, Weyerhaeuser said that it will begin plans to re-start output on its Trus Joist, TJI joists, and Microllam LVL lines in Evergreen, Alabama, effective at once. The firm will be investing capital in the engineered lumber products facility following a four-year closure because of previously weak wood products demand in North America. Beyond that, it will hire 100 new employees at the facility by the end of next year. In Alabama, Weyerhaeuser also operates a lumber manufacturing facility in Millport, a Nursery Tree Improvement Center in Camden, and it sustainably manages over 547,000 acres of timberland in 23 counties.
Are these stocks a buy or sell? Let us help you decide.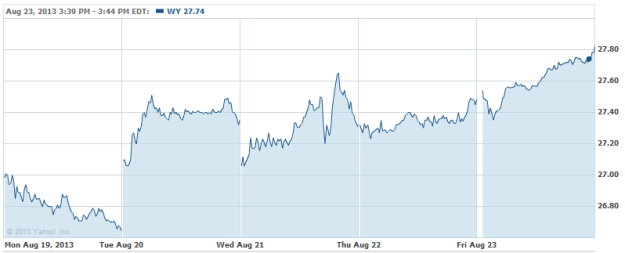 Macy's Inc. (NYSE:M): Closing price $44.79
Macy's board on Friday declared a regular quarterly dividend of 25 cents per share on the company's common stock, payable October 1, to shareholders of record at the close on September 13. Macy's maintains corporate offices in Cincinnati and New York, is one of the country's top retailers, with fiscal 2012 sales of $27.7 billion.
Are these stocks a buy or sell? Let us help you decide.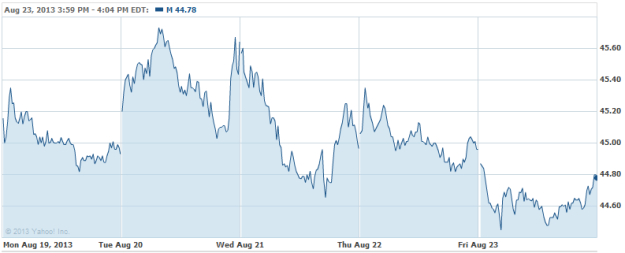 Gap Inc. (NYSE:GPS): Closing price $41.97
On Friday, Goldman Sachs maintained its Buy on Gap, Inc., which posted in-line second-quarter results Thursday, along with a price target of $48. Analyst Lindsay Drucker Mann is constructive on Gap's third quarter, observing that "Shares have underperformed our expectations in recent weeks, but we remain constructive on the outlook for third quarter, with early signs of an overall pick-up in apparel spending in August. We also see downside relatively protected in the near-term with GPS flexibility on the SG&A line and the likelihood of accelerated buybacks in the quarter. Lastly, new marketing initiatives are a positive for fourth quarter comps." Further, Mann noted that sentiment has soured, given investor fears regarding the apparel industry, but she believes that Gap is relatively insulated from competitive price action in teen retail.
Are these stocks a buy or sell? Let us help you decide.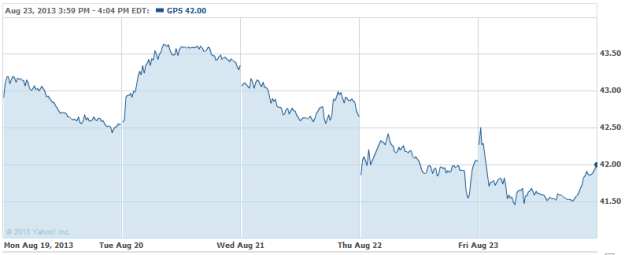 Don't Miss: Will American and US Airways Get an Answer at November Trial?