4 Consumer Stock Stories For Smart Investor Shopping
Nike (NYSE:NKE): Closing price $60.78
The apparel giant announced Thursday that the Nike Brand President Charlie Denson, who occupied that office since 2006 and is a 34-year veteran of the brand, will step down in January. Connected with Denson's retirement, Nike also announced strategic changes in its executive management team as part of its long-term organizational strategy to set the business up to continue to drive growth. The changes reflect the firm's focus on the consumer by stepping up innovation, aligning product and merchandising superiority, elevating design, optimizing go-to-market strategies, and intensifying its focus on supply chain and  manufacturing capabilities.
Are these stocks a buy or sell? Let us help you decide.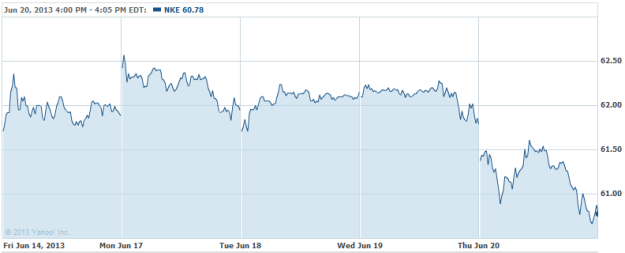 The Kroger Co. (NYSE:KR): Closing price $32.98
Kroger says that popularity of its store brands keeps customers doing more of their shopping at its supermarkets. On Thursday, the country's number-one traditional supermarket operator elevated its profit outlook for the year, after reporting a higher quarterly net income that beat Wall Street expectations, though overall sales were under the forecasts. Kroger, based in Cincinnati, also owns Ralphs, Fry's and Food 4 Less, and said that sales at stores open at least a year increased by 3.3 percent during the period, excluding fuel. The growth comes while Kroger, together with other traditional supermarket companies, are striving to adapt to a industry in transition; increasingly shoppers are getting their groceries at big-box retailers such as Target, grocery outlets, drugstores, and even dollar stores, which have expanded their food sections.
Are these stocks a buy or sell? Let us help you decide.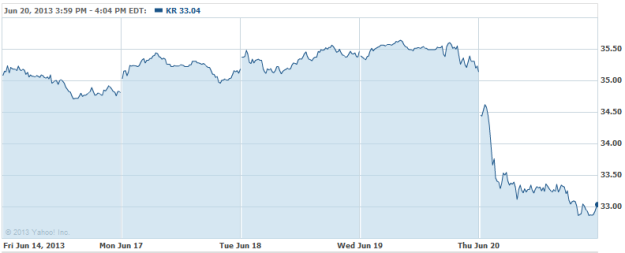 Smithfield Foods (NYSE:SFD): Closing price $32.84
On Thursday, a bipartisan group of 15 United States Senators pressed the Obama Administration to examine whether the proposed sale of Smithfield Foods to the Chinese meat company Shuanghui International poses any threat to domestic food safety or food security that could be used to justify disallowing the deal. In a joint letter to Treasury Secretary Jack Lew, the group said that "We believe that our food supply is critical infrastructure that should be included in any reasonable person's definition of national security."
Are these stocks a buy or sell? Let us help you decide.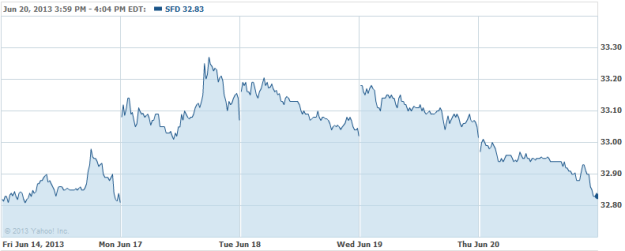 FedEx Corporation (NYSE:FDX): Closing price $95.71
FedEx announced Thursday that it has finalized the first stage of a strategic purchase by completing agreements to acquire the entities operated by its current service provider Supaswift in five countries in Southern Africa, among which include South Africa, Malawi, Mozambique, Swaziland and Zambia. It is also in talks to acquire Supaswift's businesses in Botswana and Namibia. These purchases will operate under the FedEx Express business divisions. Upon completion of the transaction, FedEx Express will have direct access throughout the seven markets to 39 facilities and will welcome roughly 1,000 of Supaswift team members, who will join the ranks of over 300,000 FedEx team members worldwide.
Are these stocks a buy or sell? Let us help you decide. Check out our Stock Picker Newsletter now.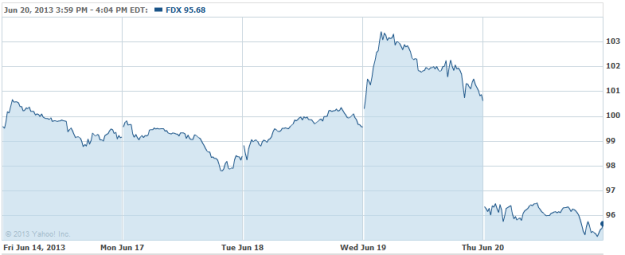 Don't Miss: Gone Gluten-Free? Go to Dunkin Donuts.