4 Consumer Stock Stories for Thursday Investment Shoppers
Amazon.com (NASDAQ:AMZN): Current price $268.55
The firm is accelerating its efforts in India to alter existing rules that disallow it from selling products directly to Indian Internet users following a metting with government officials to discuss laws that limit its presence. Telegraph India said that Amazon global vice-president Paul E. Misener met with the Indian commerce minister to that effect. The company would clearly increase its revenue significantly if it were allowed to offer its regular site and services in that country.
Are these stocks a buy or sell? Let us help you decide. Check out our Stock Picker Newsletter now.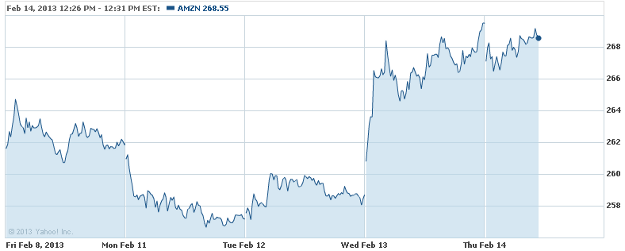 Monster Beverage Corp. (NASDAQ:MNST): Current price $46.61
The biggest domestic energy-drink maker by sales volume will begin labelling its beverages' ingredients under the federal guidelines for food products and will include caffeine content, according to Beverage Digest. Monster Chief Executive Rodney Sacks told the publication that labels on cans will list "nutrition facts" instead of "supplement facts," which would qualify the beverages as food items under FDA categorization rules.

The Walt Disney Company (NYSE:DIS): Current price $54.91
The world's largest entertainment company has raised $800 million with its first sale of floating-rate debt in nearly five years. Disney had initially planned an offering of $500 million. The company sold two-year notes that yield one basis point less than the three-month Libor, says data compiled by Bloomberg. The securities are rated A2 by Moody's Investors Service and A at Standard & Poor's.

Netflix (NASDAQ:NFLX): Current price $188.72
Netflix reports that its homegrown series House of Cards is its most-watched title, but would not release any figures. The company's Chief Content Officer Ted Sarandos, speaking at the D: Dive Into Media conference, remarked, "I don't want to give ratings because it is a real apples-to-oranges comparison with network ratings. We're thrilled."

Don't Miss: Berkshire and 3G Confirm Largest Food-Industry Acquisition Ever.