4 Consumer Stock Stories For Thursday Investment Shopping
Delta Air Lines (NYSE:DAL): Closing price $14.69
Delta has brought a lawsuit against the Export-Import Bank of the United States regarding loan guarantees given in support of  the purchases of Boeing's widebody planes by certain foreign airlines, said a court filing. The giant carrier said that the Bank's subsidies to foreign airlines, among which include Emirates Airlines, Etihad Airways and Korean Air Co, to help them buy Boeing planes would cause adverse economic effects on airlines and their employees. Beyond that, Delta claimed in the filing that the Bank failed to properly analyze the adverse economic impact, and has requested the district court in Washington D.C. to block any loan guarantees.
Are these stocks a buy or sell? Let us help you decide. Check out our Stock Picker Newsletter now.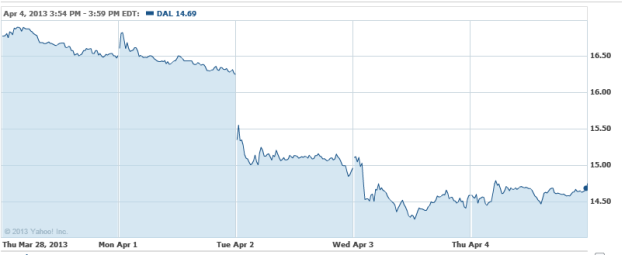 Wal-Mart Stores (NYSE:WMT): Closing price $76.23
Though it does not now seem reasonable, Wal-Mart had hoped to become India's top retailer by 2015, according to The Wall Street Journal. Sources say that the retailer opened only five wholesale stores there in 2012 and it plans to open eight locations in 2013. India's elongated process for developing commercial real estate and operating stores appears to be problematic, but a larger reason for the delay has been a compliance crackdown at Wal-Mart.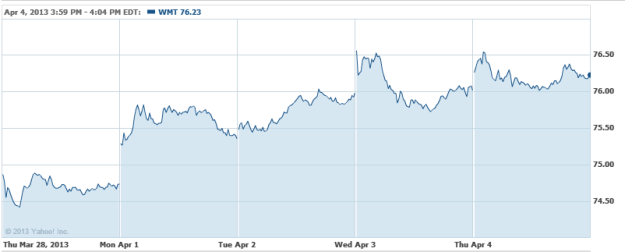 Starbucks Corporation (NASDAQ: SBUX): Closing price $58.07
On Thursday, the coffee giant reaffirmed its commitment to step up its growth in Southeast Asia, with plans to launch 100 new stores in Indonesia during the next three years and another 100 stores in the Philippines over the next four years. Chairman, President and Chief executive Howard Schultz committed to continuing to invest in the region following this week's market visit to Indonesia and the Philippines, where he met with Starbucks partners (employees) and customers.
Are these stocks a buy or sell? Let us help you decide. Check out our Stock Picker Newsletter now.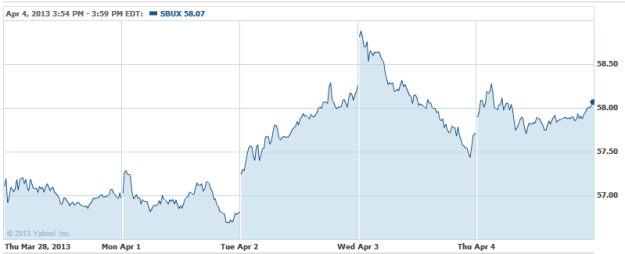 Pandora Media (NYSE:P): Closing price $13.89
Pandora says that listener hours for the service during March reached 1.49 billion, which represents a very significant jump, versus March 2012 with a total of 1.07 billion hours. Year-over-year, March of 2013 marks a 40-percent increase. Also, the company reports that its share of total domestic radio listening for March was 8.05 percent, compared year-over-year to 5.73 percent in 2012 of the total domestic radio listening audience.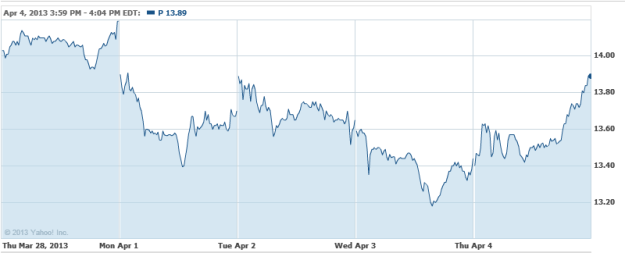 Investing Insights: Is Coca-Cola Still a Safe Investment?