4 Consumer Stock Stories For Tuesday Investment Shopping
J.C. Penney & Co. (NYSE:JCP): Current price $15.20
The historic retailer is looking for ways to borrow against its real estate holdings to help raise funds, according to two knowledgeable sources. Penney's and its financial advisers are mulling options that include spinning off real estate into a new subsidiary that could issue debt, said a source. J.C. Penney is also seeing whether it might divest real estate, and lease the property back as another means to free up cash, another person said, adding that other assets like inventory, could also be collateralized, but it has not thus far been decided which alternatives to employ.
Are these stocks a buy or sell? Let us help you decide.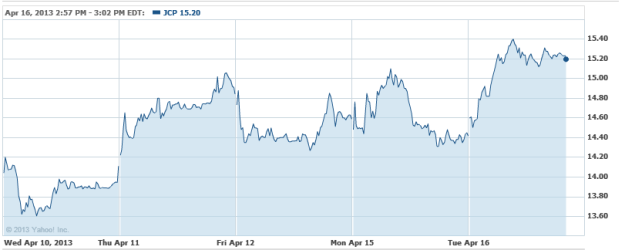 Melco Crown Entertainment Limited (NASDAQ:MPEL): Current price $22.93
In what will be its first move outside of Macau, the gaming operator has decided to fund its Philippines casino venture through a private share placement rather than a public offering. Dow Jones Newswires is reporting that the firm wants to raise $377 million by selling around 1.1 billion shares in its Manila-listed subsidiary Melco Crown Resorts Corp, Business Daily reports. The money will be used to pay for the Belle Grande Manila Bay casino resort being developed jointly by Melco Crown and the businessman Henry Sy.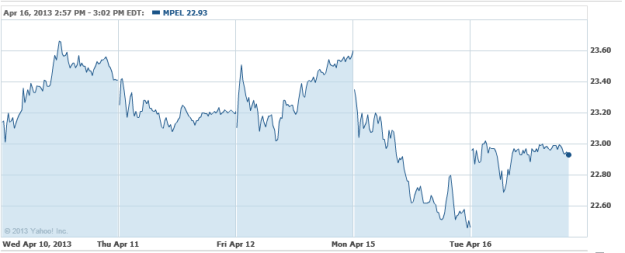 General Motors Company (NYSE:GM): Current price $29.28
GM has edged out the rapid-growing Volkswagen in first-quarter sales as both firms endeavor to close the gap with Toyota for the world sales leader. Toyota is set to release first-quarter numbers next week; the company surpassed GM to retake the number-one  spot in 2012, a year in which VW posted record sales, and came inside of 190,000 vehicles of beating GM. On Tuesday, GM said that it sold 2.36 million cars and trucks world wide from January through March, representing an increase of 3.6 percent over the first quarter of 2012. VW global sales increased by 5 percent to 2.27 million vehicles, but the firm cautioned that markets outside North America and China, especially in Europe, "are becoming even more difficult."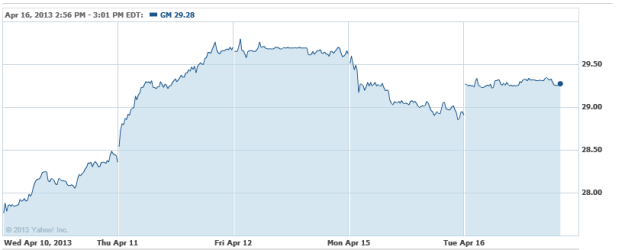 SiriusXM Radio (NASDAQ:SIRI): Current price $3.04
SiriusXM Radio debuted MySXM, which is its answer to Pandora (NYSE:P) Media, on Monday. The feature forms an interactive Internet radio service by permitting users to personalize existing SiriusXM stations, and is available to all subscribers of SiriusXM. MySXM uses in excess of 50 existing SiriusXM channels as a starting point and more channels will be added over time. The customization features for "The Spectrum" allow the listener to select different levels of depth — from less familiar to more familiar artists, era and popularity.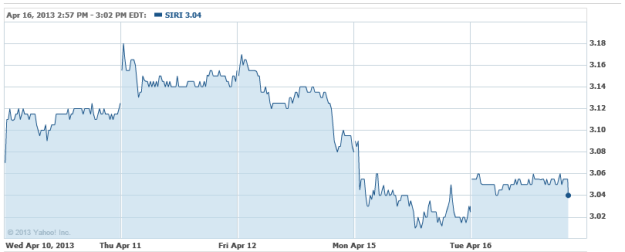 Don't Miss: Can April Retail Sales Live Up To This Forecast?