4 Consumer Stock Stories For Tuesday Investment Shopping
General Motors Company (NYSE:GM): Closing price $33.40
GM will spend $44.5 million at a Lansing, Michigan, factory, creating 200 new jobs in the process. The iconic automaker says that it will construct a 400,000-square-foot building adjacent to the Lansing Grand River factory at which parts will be assembled and put in the proper order for manufacturing. Presently, the factory employs over 1,500 hourly and salaried workers who build the Cadillac ATS and CTS luxury sports sedans.
Are these stocks a buy or sell? Let us help you decide.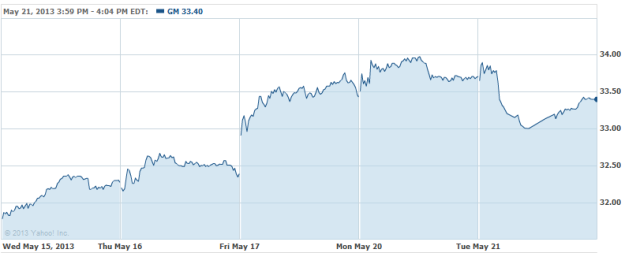 eBay (NASDAQ:EBAY): Closing price $54.95
On Tuesday, PayPal reported a new partnership with RadioShack Corporation (NYSE:RSH) that will bring PayPal into all of the electronics retailer's stores beginning in May. PayPal has been testing a method through which customers of the smoothy store Jamba Juice may order ahead, using PayPal's smartphone application and then pick up their drinks at a separate line. PayPal has been testing this procedure at seven Jamba stores in the San Francisco Bay area, but will launch it at more Jamba stores throughout the country. President David Marcus told reporters the his company expects to announce similar line-skipping arrangements with other firms in the near-term.
Are these stocks a buy or sell? Let us help you decide.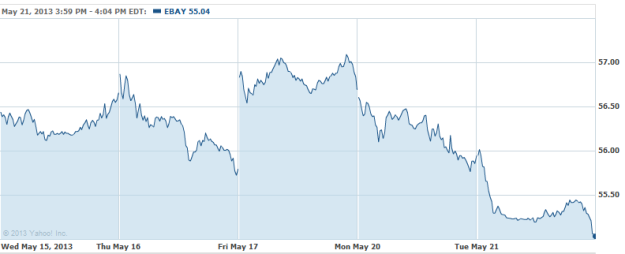 Alaska Air Group (NYSE:ALK): Closing price $58.54
Chief Operating Officer Ben Minicucci of Alaska Airlines has said that few Alaska Airlines flights have been affected by volcanic activity from Mount Cleveland, lying west of Dutch Harbor, and Mount Pavlof, near Cold Bay, and that no Alaska Airlines operated flights have been canceled at this time. On Monday, PenAir, which operates an average of three flights per day for Alaska Airlines between Anchorage and Dutch Harbor, canceled six flights, and two flights Tuesday following a number of low-level eruptions of Mount Pavlof. Minicucci commented further, "While the impact these volcanoes have had on Alaska Airlines has been minimal, we will continue to closely monitor Mount Cleveland and Mount Pavlof for any changes that could affect service to Bethel, Adak or Dutch Harbor."
Are these stocks a buy or sell? Let us help you decide.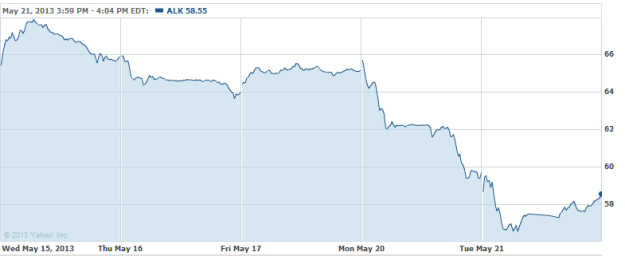 Canadian Pacific Railway Limited (NYSE:CP): Closing price $136.42
The Railway has said that five tankers containing oil derailed on Tuesday morning near Jansen, Saskatchewan, and that one of the cars is leaking crude, marking the third spill for Canadian Pacific in two months. Spokesman Ed Greenberg said the cars containing Western Canadian crude were on an eastbound mixed-freight train, adding that the company does not yet know he quantity spilled from the leaking tanker, but he said that the oil has been contained at the site of the derailment.
Are these stocks a buy or sell? Let us help you decide. Check out our Stock Picker Newsletter now.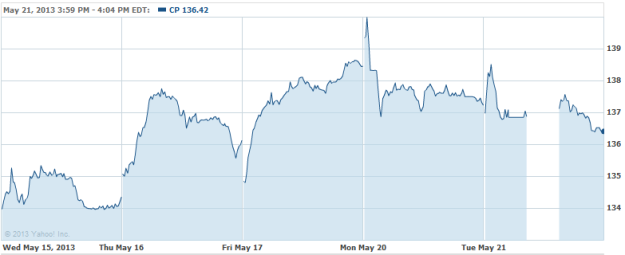 Investing Insights: Is Tiffany a Dangerous Investment Here?