4 Consumer Stock Stories For Tuesday Investment Shopping
Amazon.com (NASDAQ:AMZN): Closing price $265.70
Two knowledgeable sources say that the online giant is planning a major intro of an online grocery business that it has been quietly working on for years, and will aim at one of the biggest retail sectors so far not upended by e-commerce. Amazon has been exploring AmazonFresh in Seattle for a minimum of five years, providing fresh produce like eggs, and berries with its own fleet of trucks. But now, the company is planning to broaden its grocery business outside of Seattle for the first time, beginning with Los Angeles as soon as this week, and the San Francisco Bay Area later in 2013, according to the sources.
Are these stocks a buy or sell? Let us help you decide.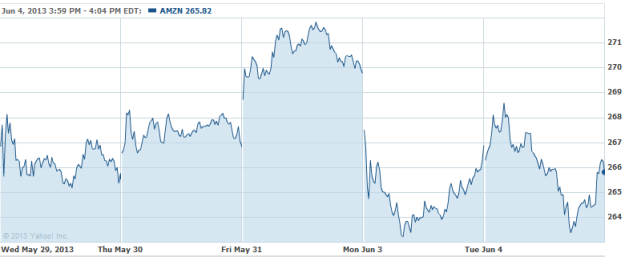 Delta Air Lines (NYSE:DAL): Closing price $18.09
The carrier says that it will drop Memphis as a hub airport beginning in the fall, as it says that the hub is not bringing in money. Delta is slashing daily flights there to 60 per day from the current 96 and also cutting 230 jobs. The reductions start on Sept. 3, just after Labor Day weekend and the end of the busy summer travel season. The reduction were in a memo from Delta executives to workers on Tuesday. Memphis had been a hub for Northwest Airlines before it was purchased by Delta in 2008, and at that time the carrier said that it planned to keep all Northwest hubs.
Are these stocks a buy or sell? Let us help you decide.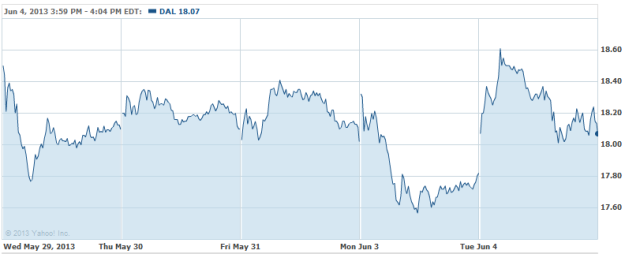 Whole Foods Market (NASDAQ:WFM): Closing price $51.24
The high-end seller of organic and local food, is debuting a new store in Detroit on Wednesday, as part of its repositioning as a go-to grocery store for everyday staples for shoppers on any sort of budget. The chain will open pilot stores in Detroit, New Orleans and on Chicago's South Side in 2013 and 2014 which feature fewer staffers, lower prices, and more frozen and prewrapped food, said Whole Foods Co-Chief executive John Mackey, who elaborated that "For every penny we cut off the price, we reach more people who can afford to shop with us." To prep for the Detroit store opening, Whole Foods has been offering classes in community centers about how to shop frugally at its store, which focus on its own 365 private label line.
Are these stocks a buy or sell? Let us help you decide.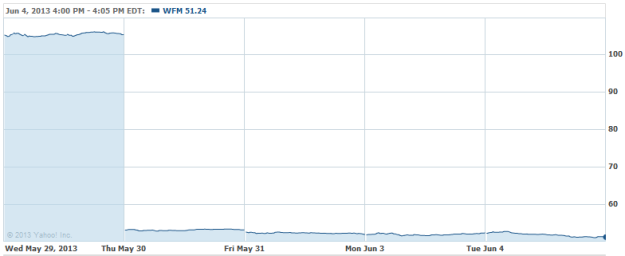 PepsiCo (NYSE:PEP): Closing price $81.63
PepsiCo and the German dairy group Unternehmensgruppe Theo Müller have formally launched their yoghurt plant in New York state. The firms have been selling an array of Muller-branded products in parts of the United States since the summer of 2012, but the opening of the plant in Batavia on Monday marked their plans to intro yoghurt on a nationwide basis. Per capita domestic consumption of yoghurt falls below levels observed in Europe, but demand has jumped during the last decade while demand rises for healthier products.
Are these stocks a buy or sell? Let us help you decide. Check out our Stock Picker Newsletter now.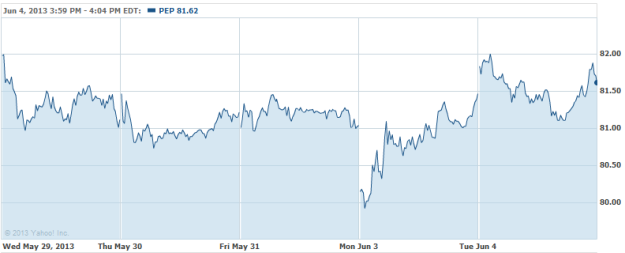 Investing Insights: Is Dunkin' Brands a Sweet Investment?