4 Consumer Stock Stories For Weekend Investment Shopping
Target Corporation (NYSE:TGT): Closing price $69.50
Since March, Target has launched 48 stores in a number of major Canadian markets, marking the retailer's first big move beyond the United States borders. Many shoppers have supported Target in big cities like Vancouver and Toronto, but others have met bare shelves or complained about prices that higher than they had hoped. Although the volume of shoppers has been encouraging, Target executives concede that they underestimated the initial demand, especially with three stores in the Toronto area. Target Canada Senior Vice President, Merchandising, John Morioka said that "That has been the biggest challenge so far. There has been no accurate history to plan for our sales."
Are these stocks a buy or sell? Let us help you decide.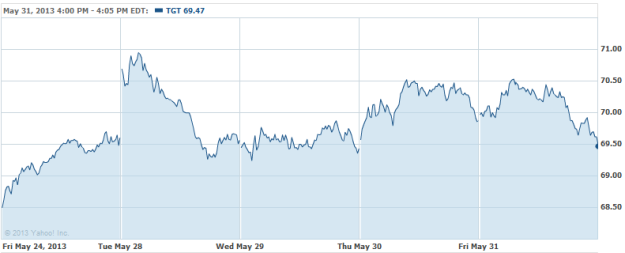 Monsanto Company (NYSE:MON): Closing price $100.64
According to a Virginia Tech database run by the Department of Agriculture said that the seed company resumed the planting of experimental wheat engineered to survive Roundup herbicide, reviving a like program that has provoked international worries with the discovery that the crop escaped in Oregon. In 2012, Monsanto planted 150 acres of wheat in Hawaii that had been genetically modified to tolerate glyphosate weedkiller, which it sells as Roundup. Another permit lets Monsanto test wheat having multiple traits, among which include Roundup tolerance, on 300 acres in North Dakota in 2013. On Wednesday, Monsanto said in a statement that it ceased its program to develop Roundup Ready wheat almost, a decade prior to the USDA announcement this week that the experimental crop was found growing on an Oregon farm. The company said that the Roundup Ready wheat in the new field trials is "an entirely different event" than the escaped crop reported by the USDA. The Monsanto spokesman Lee Quarles said in an email Friday, "This research is still in the very early phases and at least a decade away from commercial. The Roundup Ready wheat project that is the subject of the USDA report was previously discontinued."
Are these stocks a buy or sell? Let us help you decide.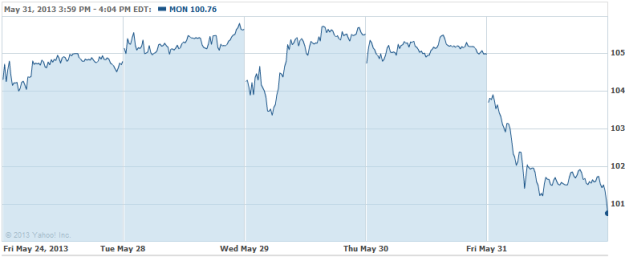 SUPERVALU (NYSE:SVU): Closing price $6.46
On Friday, the company announced the expiration of its previously reported modified Dutch Auction tender offer to buy up to $372,018,000 aggregate principal amount of its 8-percent senior notes due 2016, on the terms and conditions set forth in the offer to purchase, dated May 2, and the related letter of transmittal  sent to holders of the Notes. As of 12:00 midnight, Eastern Time, at the end of May 30, $373,053,000 in aggregate principal amount of the notes had been validly tendered (and not validly withdrawn) pursuant to the offer.
Are these stocks a buy or sell? Let us help you decide.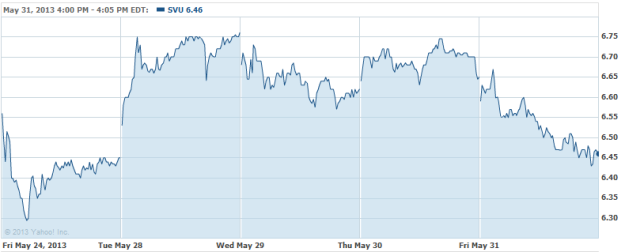 General Motors Company (NYSE:GM): Closing price $33.89
GM hopes that a hurry-up remake of its Chevrolet Malibu will lift it to a top performer in the key midsize car segment. The automaker unveiled the 2014 version of the car on Friday, in anticipation that it will catch on in the center of the domestic auto market that is now dominated by Toyota's Camry, Honda's Accord and Ford's Fusion. This quick revamp comes only a year after the current version of the Malibu appeared at U.S. showrooms.
Are these stocks a buy or sell? Let us help you decide.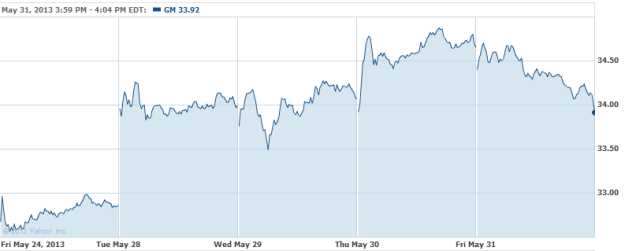 Don't Miss: Starbucks Coffee in Hong Kong: Served Fresh From the Toilet.