4 Consumer Stock Stories for Weekend Investor Shopping
Mattel (NASDAQ:MAT): Current price $37.48
A previous $80 million jury decision against the toy manufacturer Mattel was thrown out Thursday by the 9th United States Circuit Court of Appeals in San Francisco, which also removed $85 million in enhanced damages imposed by a lower court judge. The suit was over trade secret claims in regards to Bratz dolls that had been won by MGA Entertainment. However, the 9th Circuit kept in place in excess of $100 million in attorney's fees won by MGA.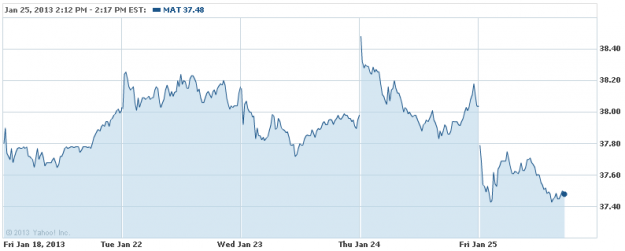 Are these stocks a buy or sell? Let us help you decide. Check out our Stock Picker Newsletter now.
The Boeing Company (NYSE:BA): Current price $74.94
Both Japanese and American regulators have now all but ruled out overcharged batteries being the cause of recent fires on the Boeing 787 Dreamliner, which has now been grounded for a week. The FAA said that there are thus far no firm answers as to the cause, and no clear time given yet for returning the planes to flight, according to Reuters.

Best Buy Co. (NYSE:BBY): Current price $15.46
The actress and comic Amy Poehler has been recruited by the retailer to get its brand message out in two humor-focused spots during the Super Bowl XLVII. A 30-second spot featuring Poehler, will be presented in the first quarter of the game, which airs February 3rd on CBS. That ad will feature a branding message, supported by a social media component, and a second one will air after the game, describing a number special offers.

United Continental Holdings (NYSE:UAL): Current price $25.15
The largest carrier in the world reported Thursday that it will slash around 600 front-office positions through voluntary and involuntary cuts, as it announced disappointing financial losses for last year. No specifics were released concerning locations for the cutbacks, but since United's corporate headquarters and network operations center are in downtown Chicago, and that Chicago O'Hare airport is one of the airline's largest hubs, it doesn't take much imagination as to where they might be clustered.
Don't Miss: Can Lockheed Win Against the U.S.?