4 Consumer Stock Stories for Wise Investment Shopping
Best Buy Co. (NYSE:BBY): Closing price $16.26
Best Buy Canada will shut seven of its big box locations throughout Canada along with eight Future Shop stores, as a part of its remake, as it said in a statement on Thursday that the move is to "optimize the company's retail footprint." As many as 900 jobs, or about five per cent of the retailer's Canadian work force could be impacted.

hhgregg (NYSE:HGG): Closing price$8.49
The electronics retailer is continuing to see its sales and earnings weakened by its video space performance, so now it must concentrate on more lucrative categories. The third quarter results showed a net income of $17.4 million, or 51 cents per diluted share, compared with $22.5 million, or 60 cents per diluted share, year-over-year from 2011. President and Chief Executive Dennis May commented, "As we announced in our pre-release, the difficult industry-wide video category trends presented a challenge to our sales and earnings. With the continued growth of our appliance business and the introduction of new categories, such as furniture and home fitness, we continue to reduce our reliance on both the video category and innovation in consumer electronics. Over time, we plan to continue to refine our mix towards large consumer home products, which include a greater mix of appliances, furniture, fitness equipment and other home products that leverage our consultative sales force, ability to deliver and install big box product, and our private label credit card. Video and consumer electronics remain important to us, but we plan to increase our focus on these other large home products."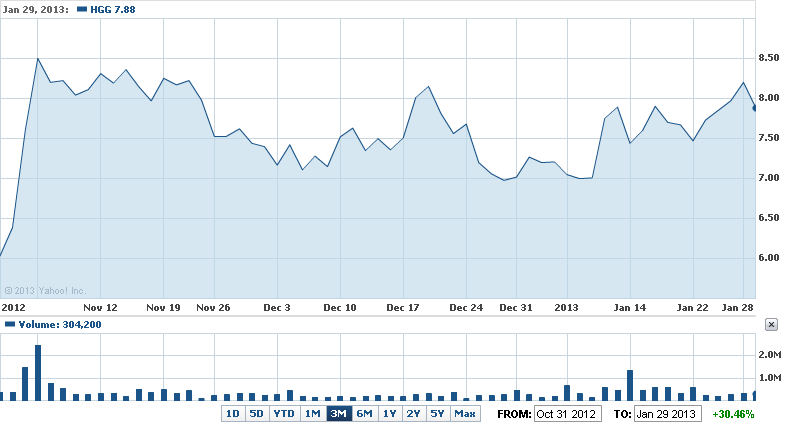 Markets are at 5-year highs! Discover the best stocks to own. Click here for our fresh Feature Stock Pick now!
Alcatel-Lucent (NYSE:ALU): Closing price $1.67
The firm has tripled the broadband network capacity and speeds for the biggest cable TV operator in Russia, National Cable Networks, which is part of the OJSC Rostelecom group. This enhanced network will support a quite noticeable jump in video traffic, stemming from surveillance cameras being installed across Moscow.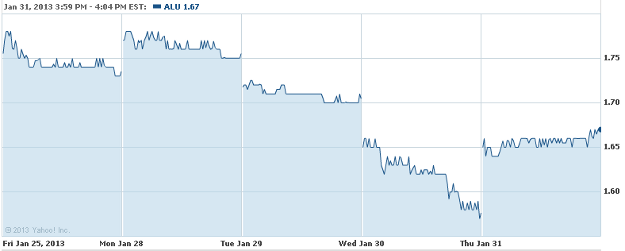 Anheuser-Busch Inbev (NYSE:BUD): Closing price $88.60
On Thursday, the Justice Department filed a civil antitrust lawsuit that challenges Anheuser-Busch's proposed purchase of 100 percent-ownership and control of Grupo Modelo. According to the Department, the $20.1 billion deal would substantially lessen competition in the market for beer in the United States as a whole and in 26 metropolitan areas throughout the country, forcing consumers paying more for beer and having fewer new products from which to choose. Because the beer market in the United States is so large, even a tiny boost in the price of beer could cause billions of dollars of harm to American consumers.
Don't Miss: What's Next for Dunkin' Brands After Strong Earnings?