4 Consumer Stock Stories for Your Investment Shopping Pleasure
Macy's Inc. (NYSE:M): Closing price $46.41
Macy's iconic Manhattan flagship store on Herald Square is slated for a $400 million makeover. It is reported that most of the wooden escalators will still move up and down, but customers might not find much else familiar, especially in the street level's grand hall, replete with luxury goods showcases, high ceilings, and white marble floors. The strategy for Macy's as it attempts, as are other retailers, to gain a larger slice of the booming luxury goods market. All told, upon completion of the four-year renovation in 2015, Macy's will have added 100,000 square feet of retail space, making for a total of 1.2 million square feet.

DISH Network Corp. (NASDAQ:DISH): Closing price $48.76
On Wednesday, DISH announced that its subsidiary, Blockbuster L.L.C., will cease its retail and by mail DVD distribution operations by early January, meaning that there will be no more retail stores and distribution centers. The company has about 300 remaining retail stores in the United States, as well as its distribution centers. DISH President and Chief Executive Joseph P. Clayton commented that, "This is not an easy decision, yet consumer demand is clearly moving to digital distribution of video entertainment. Despite our closing of the physical distribution elements of the business, we continue to see value in the Blockbuster brand, and we expect to leverage that brand as we continue to expand our digital offerings."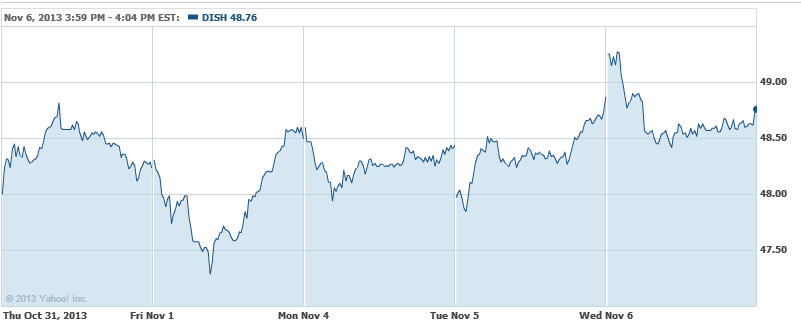 Republic Airways Holdings Inc. (NASDAQ:RJET): Closing price $11.72
Republic Airways subsidiary Frontier Airlines announced Wednesday that it will expand operations at the New Castle Airport in Delaware with flights to Detroit and Atlanta. Frontier Chief Executive David Siegel reported that, in addition to previously announced plans to commence service to Fort Myers, starting November 16, the discount air carrier will start nonstop flights to Atlanta and Detroit on April 29.

Starbucks Corp. (NASDAQ:SBUX): Closing price $81.06
The number one coffee chain on the planet said on Wednesday that it would commit to hiring a minimum of 10,000 veterans and spouses of active military through the next five years. Besides that, Starbucks said that five new and existing Starbucks cafes on or near military bases will share a portion of each sale with non-profit organizations that assist veterans in re-entering the workforce. Starbucks promised that it will have specialized recruiters to help match the unique skills of veterans and their spouses with company jobs.

Don't Miss: 3 Things Burger King Does Exactly Like McDonald's.