4 Consumer Stock Stories Making A Buzz Before the Weekend
Target Corporation (NYSE:TGT): Closing price $70.36
Target is readying a new organic and natural store brand while it endeavors to ramp up its grocery business. The retailer said that the new brand, called Simply Balanced, will kick off with drinks and snacks such as corn chips on Sunday. The new line builds upon similar products within its existing Archer Farms store brand, which is being positioned as a premium alternative to national name brands. The senior director of Target's store brands, Amanda Irish, said that the new line is in reaction to the increasing popularity of organic foods. Although they still comprise under 10 percent of overall grocery sales, Irish said organic foods are growing at twice the speed of conventional groceries.
Are these stocks a buy or sell? Let us help you decide.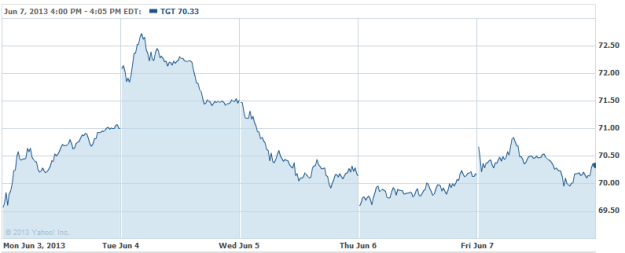 Tesla Motors (NASDAQ:TSLA): Closing price $102.04
The American electric car manufacturer will christen its first sales outlet in China, according to a Chinese newspaper report made on Thursday. But industry analysts are a bit dubious on the idea; they told the Global Times the expansion would entail considerable risks and uncertainties. Tesla Motors is poised to start its China venture with its first China sales outlet in Beijing, said the China Youth Daily on Thursday, without revealing the exact time frame.
Are these stocks a buy or sell? Let us help you decide.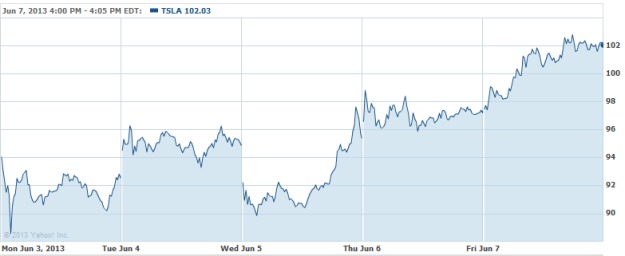 J.C. Penney & Co. (NYSE:JCP): Closing price $18.73
The historic retailer hopes that its new home product range will strengthen flagging sales and help return the firm to its glory days, said the new and also former Chief Executive Mike Ullman to CNBC, remarking that "We are very excited to be back where the home building business is picking-up; our dot com business is likely to grow to over 50 percent home in the near future." The home goods segment has been the retailer's worst-performing category for seven years, comprising only 12 percent of its sales in the last fiscal year, versus 21 percent in 2006. When he was asked if Penney's new home department might get it back to where it was seven years ago, Ullman responded, "Home gives us a chance to grow our business back to historical levels."
Are these stocks a buy or sell? Let us help you decide.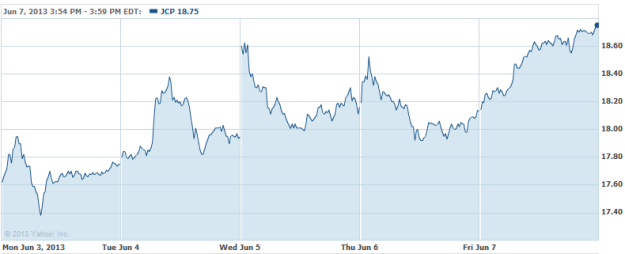 Liberty Global (NASDAQ:LBTYA) Closing price $76.24
On Friday, the company announced that, after shareholder and regulatory approvals, as well as other usual closing conditions, it has finished its previously-reported acquisition of Virgin Media in a stock and cash merger transaction valued at around $24 billion. As a result of the closing, Liberty Global, which is a public limited firm organized under the laws of England, is now the new public parent company of Liberty Global and Virgin Media. Liberty Global's Class A, Class B, and Class C ordinary shares will commence trading on the NASDAQ Global Select Market on June 10th under the same symbols: LBTYA, LBTYB and LBTYK.
Are these stocks a buy or sell? Let us help you decide. Check out our Stock Picker Newsletter now.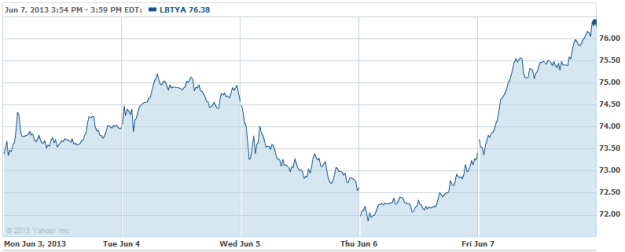 Don't Miss: Businesses Gear Up For National Doughnut Day.