4 Consumer Stock Stories Making a Buzz on Tuesday
McDonald's Corp. (NYSE:MCD): Closing price $93.80
Analyst Michael Kelter at Goldman Sachs had some bad news for McDonald's. A Goldman survey of 2,000 customers indicates that the fast food company seems to be losing customers. In a note to investors, Kelter commented that, "It has not had strong innovation for the past few years, it is losing advertising share of voice and it is the restaurant consumers are least likely to recommend to their friends/family." In the survey, McDonald's ranked last place in a list of 23 fast-food chains in terms of food quality, healthfulness, and customers' willingness to pay more for the food than it currently costs.

Mattel Inc. (NASDAQ:MAT): Closing price $41.55
On Tuesday, a labor rights group based in the United States accused the toy major Mattel of a series of violations at supplier factories in China, such as the failure to pay sufficient wages. China Labor Watch said it had discovered legal and ethical violations at six plants to which Mattel contracts work, said a report based on worker interviews and undercover inquiries. Problems included under-compensation through unwillingness to pay overtime and provision of mandatory insurance, according to the report posted on its website.

Green Mountain Coffee Roasters Inc. (NASDAQ:GMCR): Closing price $65.82
The seller of specialty coffee and single serve beverages with its Keurig brewing tech on Tuesday announced that Paul D. O'Brien became its President, Asia Pacific as of last Monday, reporting to President and Chief Executive Brian P. Kelley. The appointment is concurrent with the announcement of the retirement of current President, International Business Development, Gerard Geoffrion at the end of calendar 2014. O'Brien comes to GMCR from Sara Lee Corp., where he served as managing director of the Kitchens of Sara Lee Pty. Ltd. based in Australia since November of 2010.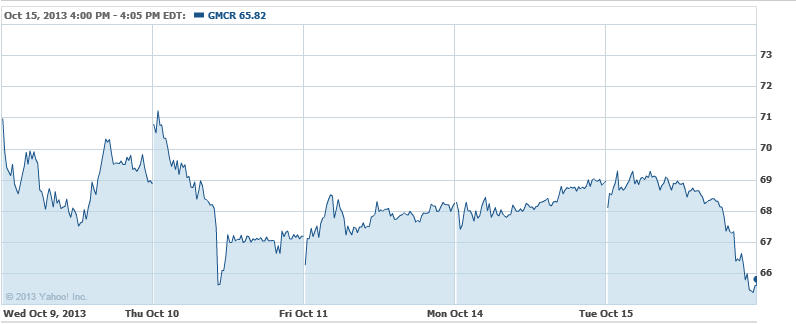 General Motors Co. (NYSE:GM): Closing price $34.70
In Arlington, Texas, the first of three colossal stamping presses is running at General Motors' newest stamping facility. The $200 million contiguous stamping plant announced in 2012 contributes 180 jobs to GM's Arlington manufacturing complex, and is one of 10 contiguous stamping operations worldwide that have commenced output in the last five years. The first Arlington-stamped product was a 2014 Cadillac Escalade on display at the site's official grand opening attended by Executive Vice President, Global Manufacturing Tim Lee, who is Chairman, GM China.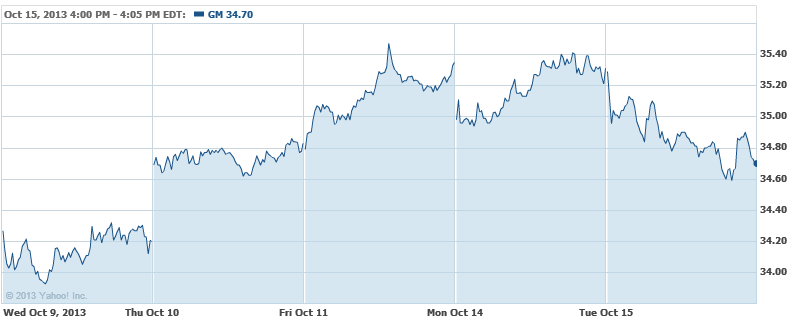 Don't Miss: Not So Easy Route for the Office Depot-OfficeMax Merger.