4 Consumer Stock Stories Making a Commotion on Thursday
United Continental Holdings Inc. (NYSE:UAL): Closing price $29.70
On Thursday, United Airlines announced it would call back close to 600 pilots who were furloughed while fuel prices spiked and the recession forced the airline to scale back operations. The airline said training for the returning pilots commences in October and will be done by the end of 2013. The returning pilots represent the last of the 1,437 United pilots furloughed in 2008 and 2009, the Air Line Pilots Association said.
Are these stocks a buy or sell? Let us help you decide.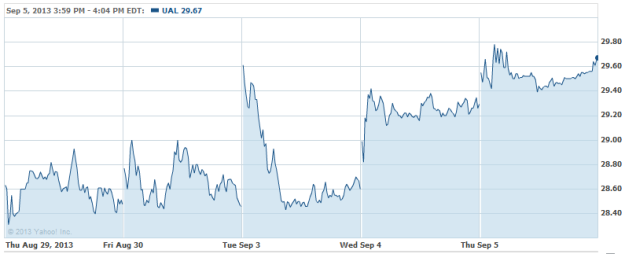 Time Warner Cable Inc. (NYSE:TWC): Closing price $108.90
Time Warner said Thursday that subscribers may now watch on-demand versions of Mad Men, Breaking Bad, and other programming from AMC on smartphones, tablets and other devices while they are away from their homes, as the company obtained out-of-home rights to AMC content. The majority of cable networks have resisted the concept of allowing subscribers to view content on tablets, smartphones, and computers when they are away from home.
Are these stocks a buy or sell? Let us help you decide.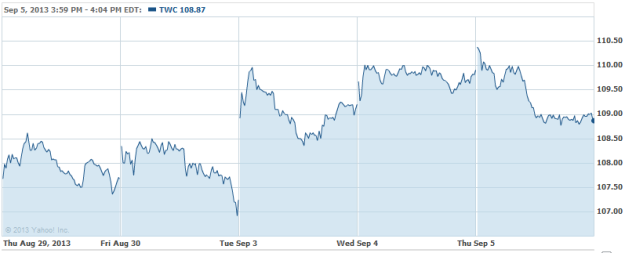 Ford Motor Co. (NYSE:F): Closing price $17.30
Propelled by heavy retail gains on the West Coast and continuing force behind the truck market, Ford sales jumped by 12 percent in August, year over year. The automaker's gains came despite output constraints on certain popular models like the Focus, Fusion, Escape, and Explorer. Ford anticipates Fusion shortages to ease now that the company has begun building its midsize sedan at a second facility.
Are these stocks a buy or sell? Let us help you decide.

Lululemon Athletica Inc. (NASDAQ:LULU): Closing price $69.92
Shares spiked Thursday but closed modestly down after analyst Camilo Lyon at Canaccord made upbeat commentary regarding the firm's fall line. Lyon said: "During our checks throughout the quarter we were encouraged by positive consumer reactions to the new 'full-on Luon' line and favorable early reception to the fall line — both of which indicate to us the resiliency of the brand. We expect the second half will revert back to normalized levels of comp growth now that the transitory product disruptions have passed."
Are these stocks a buy or sell? Let us help you decide.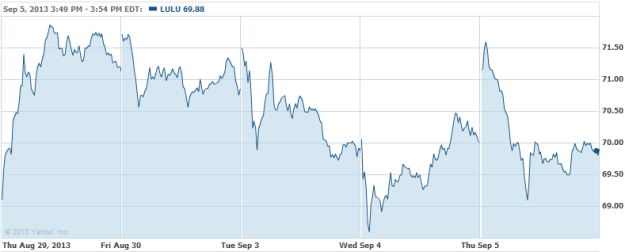 Don't Miss: Smithfield May Be Chinese-Owned by Friday.