4 Consumer Stock Stories Making Headlines On Monday
The Coca-Cola Company (NYSE:KO): Closing price $39.53
Effie Worldwide announced that Coca-Cola was just named "the most effective brand in the world," taking the number one spot on the ranking organization's most effective advertiser list. In 2012, McDonald's topped the list, and Coke came in as number two. The Effie organization employs panels of industry experts to evaluate case studies so as to determine which firm's advertising has most convincingly shown effectiveness. The case studies are judged in areas like brand awareness, store traffic, perception, social media engagement and sales.
Are these stocks a buy or sell? Let us help you decide.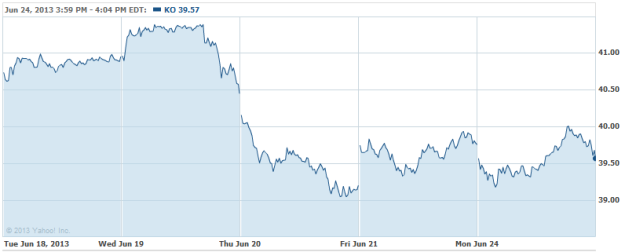 American Airlines (NYSE:LCC): Closing price $16.13
On Monday, the carrier said that it has finished the rollout of its electronic flight bag program to pilots, as it becomes the first major airline to utilize computer tablets inside airplane cockpits on all flights. In an estimate, the airline figured that removing pilots' 35-pound bags from planes will save a minimum of 400,000 gallons of fuel annually, and $1.2 million in fuel costs for the same period. Thus far, the program has eliminated 24 million pages of paper as over 8,000 Apple iPads have been handed out. American's Vice President, Airline Operations Technology Patrick O'Keeffe remarked that "Our focus on technological improvement throughout our operation has never been stronger as we continue to build the new American."
Are these stocks a buy or sell? Let us help you decide.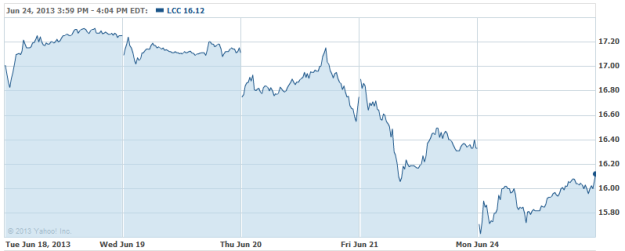 YUM! Brands (NYSE:YUM): Closing price $68.10
Taco Bell will begin testing a new "Power Protein" menu in Ohio, which will target health-conscious consumers. The offerings will include items with over 20 grams of protein at under 450 calories per serving, like a burrito and a bowl, both featuring a double portion of chicken or steak. Already, the menu is being tested under the name "Fresco Power" in Southern California. Nutritionist and product manager for Taco Bell Missy Schaaphok, indicated in an e-mail that the company is employing the "protein" label on its new menu "because of the ingredients in the items."
Are these stocks a buy or sell? Let us help you decide.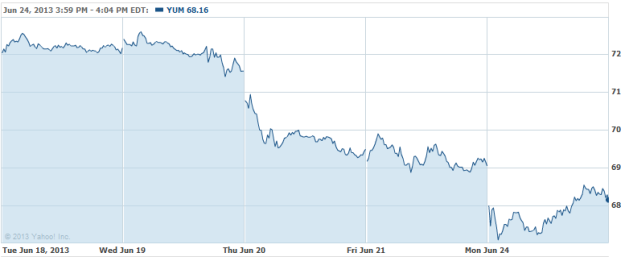 General Motors Company (NYSE:GM): Closing price $31.42
It is anticipated that the iconic automaker will name its United States sales chief Alan Batey as the world chief of Chevrolet, according to an inside source, which elaborated that Batey is expected to be assigned this week to the newly-formed post to accelerate Chevy's growth in the 140 markets in which it is sold. The Wall  Street Journal reported the plan on its Web site on Sunday. However, Chevrolet spokesman Mike Albano would not comment on any potential changes, saying in an email, "As our business transforms, we'll make necessary organizational adjustments to  maximize our growth."
Are these stocks a buy or sell? Let us help you decide. Check out our Stock Picker Newsletter now.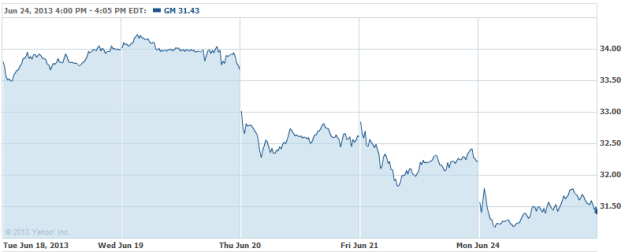 Don't Miss: How Good is Coca-Cola's Advertising?