4 Consumer Stock Stories Making Lots Of Waves
McDonald's Corporation (NYSE:MCD): Closing price $100.29
For a limited period beginning next Monday in Japan, McDonald's Holdings Co. will sell "premium" hamburgers priced in excess of ¥500. The Quarter Pounder BLT will go for ¥520 to ¥570, making it the most pricey McDonald's burger. Another new item will be the Quarter Pounder Habanero Tomato, priced between ¥480 and ¥520, available at all McDonald's outlets in that country. The debut of the new burgers is meant to improve the firm's profitability; President and Chairman Eiko Harada said on Monday that he believes the new burgers will raise the number of customers.
Are these stocks a buy or sell? Let us help you decide.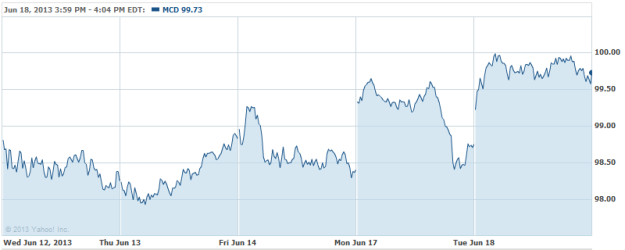 Kimberly-Clark Corporation (NYSE:KMB): Closing price $99.44
The iconic company is planning a $37.1-million investment through which to expand its operations in Venezuela, said the state news agency, in a move that should help assuage an embarrassing national shortage of toilet paper (shades of the 1970s in the U.S.!) The lack of some food items, medicines and basic bathroom necessities has stained the beginning of the new President Nicolas Maduro's government, which commenced in April. But now, the shortages have become symbolic of the South American nation's increasingly convoluted economic problems, which show up particularly in a shortage of dollars for importers, as the government blames private businesses for hoarding and price-gouging.
Are these stocks a buy or sell? Let us help you decide.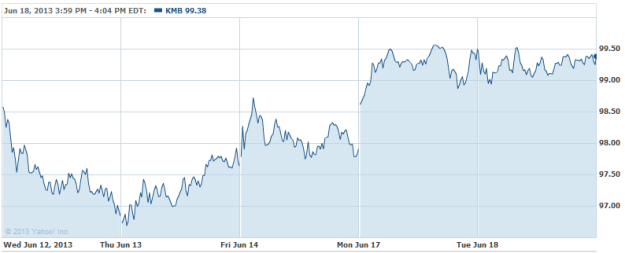 Ford Motor Company (NYSE:F): Closing price $15.65
Ford will bring back buttons and knobs to help complement the touchscreen of its MyFord Touch infotainment system. Already, the veteran automaker has added buttons and knobs for climate control and audio on new models such as the Fusion midsize sedan and Escape compact SUV, according to a Ford spokesman on Monday through an email, adding that as Ford continues to reconfigure its vehicle lineup in coming years, additional models will have buttons. However, model buyers will still be able to adjust climate and audio by means of the MyFord Touch touchscreen. Observers might well wonder if Ford will also bring back optional window cranks.
Are these stocks a buy or sell? Let us help you decide.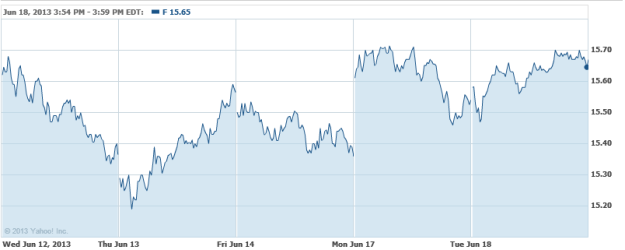 Sony Corporation (NYSE:SNE): Closing price $21.40
On Tuesday, Sony announced that it will review the hedge fund investor Daniel Loeb's proposal that it outline its entertainment business, after Loeb's Third Point increased its interest in the electronics company. Sony affirmed that it received another letter from Third Point earlier on Tuesday, but would not comment regarding the specifics of Third Point's proposal, explaining in a statement that "the entertainment businesses are important contributors to Sony's growth. We look forward to continuing constructive dialogue with our shareholders as we pursue our strategy."
Are these stocks a buy or sell? Let us help you decide.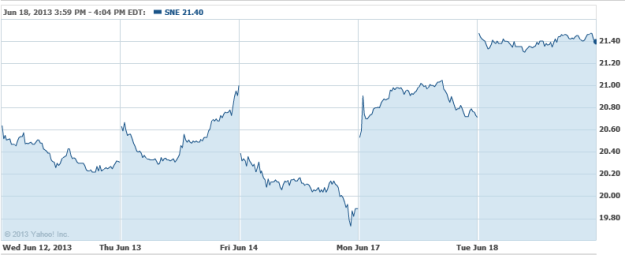 Don't Miss: Will Boeing Stock Continue to Ascend?