4 Consumer Stock Stories Making TGIF Headlines
The Gap (NYSE:GPS): Closing price $41.73
On Friday, a jury in Marshall, Texas said that The Gap did not infringe the Texas company Alexsam's patents for prepaid gift cards, in the second case in June in which a retailer resisted royalty demands from the licensing firm. The jury turned aside Alexsam's request for $34.5 million in damages, as Gap, the biggest specialty apparel retailer in the United States, claimed it did not use the tech in question, and the jury concurred. Closely-held Alexsam owns patents that cover systems through which to activate and recharge stored-value cards, and has claimed that it is entitled to royalties on every gift card sold.
Are these stocks a buy or sell? Let us help you decide.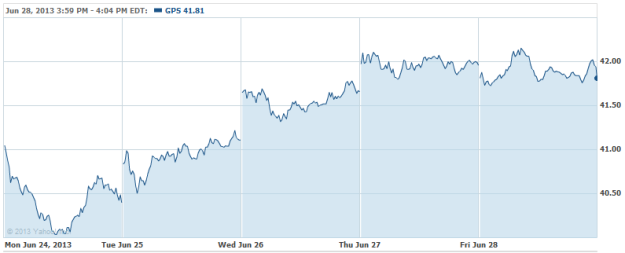 Target Corporation (NYSE:TGT): Closing price $68.86
Target has announced that it will open 2 new stores in California, with one each in Fresno and Rocklin. The 140,000-square foot Fresno Northwest store and the 136,000-square foot Rocklin store are set to debut in March of next year, and  each will hire between 180 and 200 employees. The store numbers reinforce the corporation's strategic initiative to consolidate its position in regions in which it generates strong sales. Beyond that, the expansion of its store base will make it easier to effectively penetrate into its target markets and obtain a competitive advantage over its peers.
Are these stocks a buy or sell? Let us help you decide.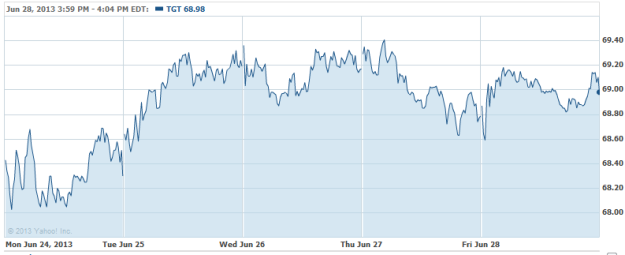 General Motors Company (NYSE:GM): Closing price $33.31
Unions representing PSA Peugeot Citroen workers have voiced worries on Friday concerning a deeper link-up plan with General Motors which sources believe that the French carmaker wishes to revive. Analysts said that such an event would require serious capacity reductions, and would face large obstacles, but the discussions could imply that the companies getting ready to take on the problem of overcapacity. Peugeot and the founding Peugeot family have more than once refused to comment on a Reuters report that the founding shareholder will relinquish control in exchange for a new cash injection from GM.
Are these stocks a buy or sell? Let us help you decide.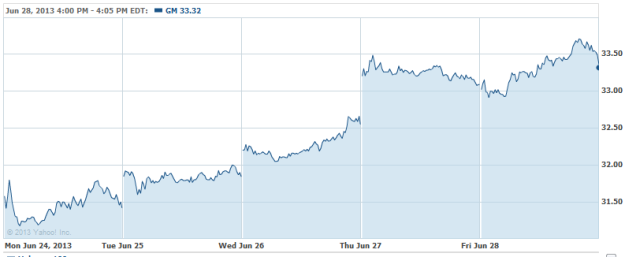 Sears Holdings Corp. (NASDAQ:SHLD): Closing price $42.08
And now two more: Sears and J.C. Penney Co. said on Friday that they are severing ties with Paula Deen, thus adding to the list of firms who have done so already, following allegations that the celebrity chef used racial slurs in the past. Sears announced that it will phase out all products linked to the brand after "careful consideration of all available information." The spokeswoman Amy Diamond, at the parent company of Sears and Kmart stores said that "We will continue to evaluate the situation."
Are these stocks a buy or sell? Let us help you decide. Check out our Stock Picker Newsletter now.