4 Consumer Stock Stories Making Themselves Noticed Monday
US Airways Group (NYSE:LCC): Closing price $17.26
Following the long-awaited merger, the new American Airlines will have more top executives from the smaller but more successful US Airways than from the current American Airlines. All of five US Airways executives will follow their current Chief Executive Doug Parker when he takes the bridge after the airlines complete their proposed linkup. Three executives from American parent AMR Corp. were chosen for the new entity's leadership team. AMR and US Airways Group hope to finalize what is still a proposed merger this summer, but it requires approval by antitrust regulators and by AMR's bankruptcy creditors.
Are these stocks a buy or sell? Let us help you decide.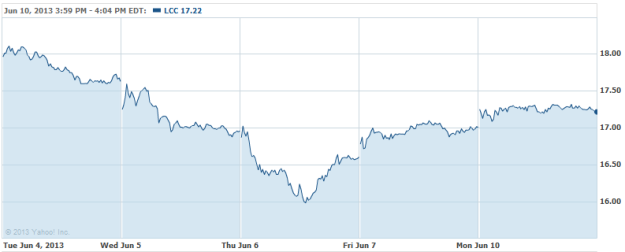 Comcast Corporation (NASDAQ:CMCSA): Closing price $40.67
The micro-budget horror movie The Purge easily took first place over the weekend, beating the higher-profile Vince Vaughn, Owen Wilson comedy The Internship. Meanwhile, Fast & Furious 6 became the second of Summer 2013 movies to surpass $200 million at the domestic box office. Produced for only $3 million, The Purge debuted to a whopping $34.1 million, representing a record for original R-rated horror movie, topping last year's The Devil Inside which brought a paltry $33.7 million, quite a feat considering that the movie lacked a supernatural angle.
Are these stocks a buy or sell? Let us help you decide.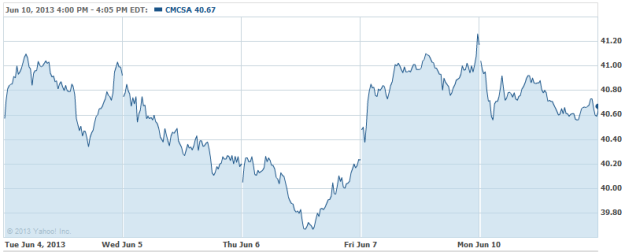 Ford Motor Company (NYSE:F): Closing price $15.71
In what is apparently a voluntary collaboration, Ford  and the United Auto Workers are working to get Detroit autoworkers more physically fit and reduce the automaker's health care costs via financial incentives to factory employees who make healthy lifestyle choices. The two sides want to announce the pilot program in July, said persons close to the talks. Other domestic automakers are closely observing the events in Dearborn and could follow Ford with their own wellness incentive programs as the industry endeavors to curb rising health care costs. Ford spokeswoman Kristina Adamski said in a statement to The Detroit News that "as part of the 2011 collective bargaining agreement, Ford and the UAW agreed to further discuss health initiatives. We have nothing further to announce at this time."
Are these stocks a buy or sell? Let us help you decide.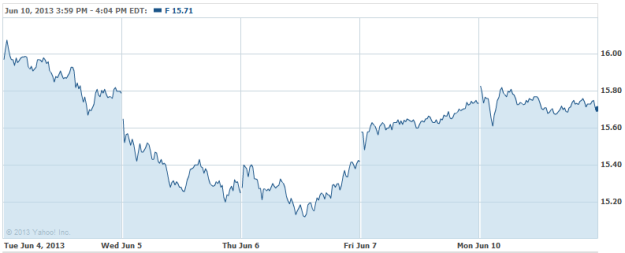 Office Depot (NYSE:ODP): Closing price $4.28
Office Depot announced Monday that it will start mailing the joint proxy statement/prospectus connected with the proposed merger with OfficeMax on or about June 10th. As of May 28th, shareholders of record will receive the joint proxy statement/prospectus concerning the proposed merger, and be eligible to vote at the company's special shareholder meeting to be held on July 10th. Office Depot's board recommends that shareholders approve the issuance of common stock to OfficeMax shareholders connected with the proposed merger.
Are these stocks a buy or sell? Let us help you decide.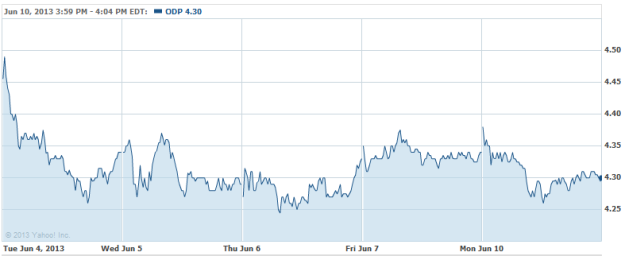 Don't Miss: Are McDonald's Menu Mix-Ups Paying Off?