4 Consumer Stock Stories Needing Friday Attention
Amazon.com (NASDAQ:AMZN): Closing price $273.36
The government is proposing a new law that would disallow the online retailer Amazon from offering both discounts and free delivery for books in France, as it believes that such perks lets the online giants crush smaller firms who can not afford such enticements. Culture Minister Aurelie Filippetti said that the government is waiting for the right time to introduce a ban on the practice, which book sellers claim threatens their business model by permitting Amazon to undercut their prices. As do other European countries, France bans retailers from discounting books over 5 percent from the sale price set by the publisher.
Are these stocks a buy or sell? Let us help you decide.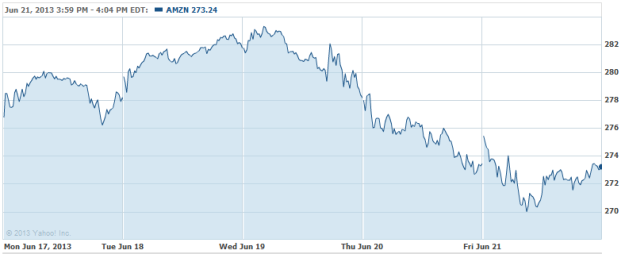 Toyota Motor Corp. (NYSE:TM): Closing price $119.55
The world's number-one automaker by vehicle sales, reports that it will invest $200 million at three plants in the United States. The amount includes $150 million at a Huntsville, Alabama engine plant, said an emailed statement. Toyota is also investing at facilities in Troy, Mississippi, and Jackson, Tennessee, which supply the Alabama factory. Thus far in 2013, the automaker saw its U.S. vehicle sales increase by 5.2 percent, which is below the 7.3-percent industry-wide sales increase. During the last two years, Toyota has spent roughly $2 billion in North American manufacturing investments.
Are these stocks a buy or sell? Let us help you decide.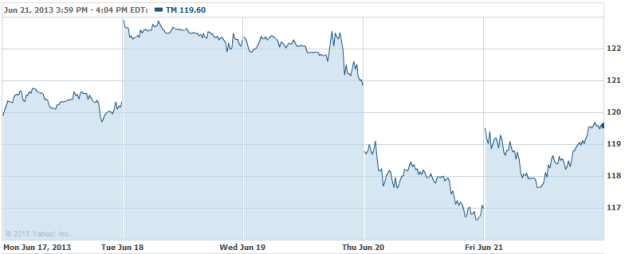 Jos. A. Bank Clothiers (NASDAQ:JOSB): Closing price $39.63
The clothier confirmed Friday that it is considering strategic opportunities through which to boost shareholder value, including searching out potential purchases to facilitate added growth. Since the current team assumed management of Jos. A. Bank in 1999, shareholder value has grown by more than 5,700 percent, from a market cap of around $19 million in November 1999 to over $1.1 billion in June of 2013. During that same period the firm has steadily opened in excess of 500 stores, resulting in the creation of more than 5,000 American jobs.
Are these stocks a buy or sell? Let us help you decide.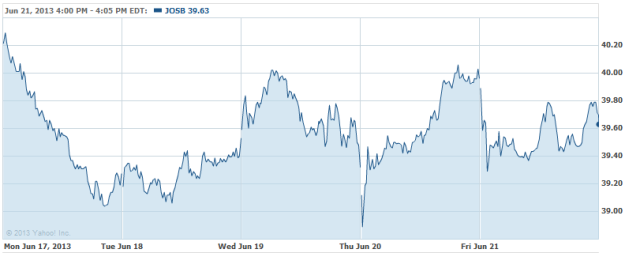 Tesla Motors (NASDAQ:TSLA): Current price $99.55
Tesla founder Elon Musk has shown off the firm's new battery pack-swapping tech for the Model S electric sedan. Presenting at an event at Tesla's design studio in Hawthorne, California, Musk explained that the entire process will take about 90 seconds while the driver remains in the car all the while. The swapping technique won over what Musk described as "the fastest gas pump in LA." Drivers may either return the fresh battery pack as they pass the service station, or keep it. Then Musk said that Tesla will bill later for the difference in value, and that the service will cost similar to a tank of gas.
Are these stocks a buy or sell? Let us help you decide.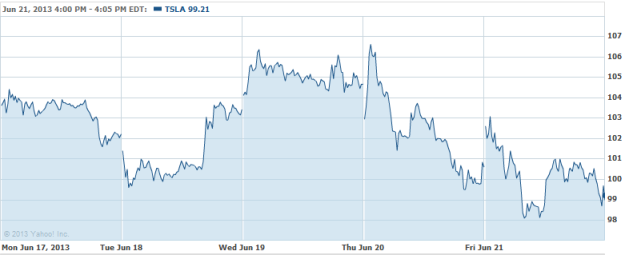 Don't Miss: (Not) Living the Dream: Another One of Boeing's 787s Diverted.