4 Consumer Stock Stories Not To Be Overlooked
Kroger Co. (NYSE:KR): Current price $28.47
The supermarket chain now has a shelf registration of $2.5 billion following a recent upsize of $1.8 billion. Further, the company's most recent 10-Q, indicates a coming refinancing $1.5 billion of debt maturing this year and next. All this implies to dealReporter that Kroger just might be looking at Harris Teeter Supermarkets (HTSI), which the Wall Street Journal on Tuesday confirmed is conducting a strategic review and has recruited JPMorgan to aid in exploring its options.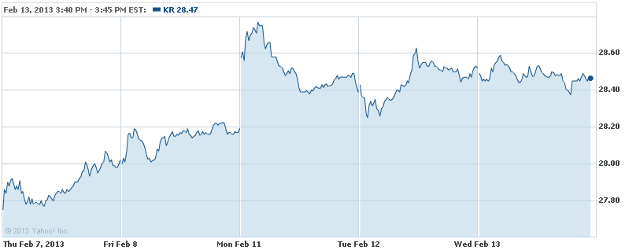 Carnival Corporation (NYSE:CCL): Current price $37.39
The biggest cruise company in the world calculates that the total impact from voyage disruptions and connected repair costs will result in a reduction of  between 8 and 10 cents to earnings per share in the first half. Carnival's array of cruise brands is comprised of Carnival Cruise Lines, Holland America Line, Princess Cruises, Seabourn, AIDA Cruises, Costa Cruises, Cunard, Ibero Cruises, P&O Cruises and P&O Cruises. Taken together, these brands operate 100 ships with 203,000 lower berths with nine new ships set to be delivered between March 2013 and March 2016.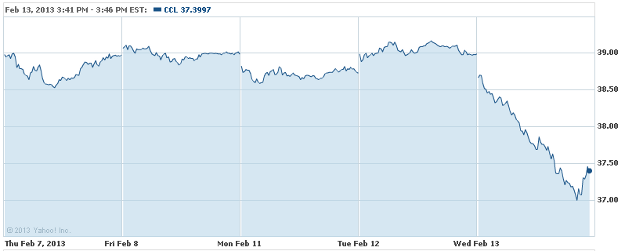 E.I. DuPont de Nemours and Company (NYSE:DD): Current price $47.53
DuPont has won preliminary approval to resolve class action allegations that its widely-used Imprelis herbicide was responsible for killing thousands of trees. On Tuesday, United States District Judge Gene Pratter tentatively okayed the agreement, saying that the deal could affect at least tens of thousands of customers. In 2010, the company introduced Imprelis as a new herbicide to control weeds in recreational areas like golf courses and commercial properties such as sod farms. Through the agreement's terms, DuPont will pay property owners to remove and replace the damaged trees and cover other losses as well.
Are these stocks a buy or sell? Let us help you decide. Check out our Stock Picker Newsletter now.

J.C. Penney & Co. (NYSE:JCP): Current price $19.75
Analysts are worried about the historic retailer hiking its borrowing capacity under a bank credit facility by $100 million up to $1.85 billion and expanding its option to borrow more at a later date, even as it works on a turnaround. This current move could swell Penney's borrowing capacity from $1.75 billion to $2.25 billion. The firm's CFO, Ken Hannah, commented in a statement on Tuesday that, "As we enter the second year of our transformation, today's announcement reflects the confidence of our banking group in our long-term strategy and further strengthens our liquidity position as we continue to execute our plan."

Don't Miss: Here's What January's Retail Sales Say About the Economy.