4 Consumer Stock Stories Not to Miss
The Boeing Company (NYSE:BA): Closing price $75.14
In view of this week's equipment failures on the firm's Dreamliners, Boeing released a statement on Friday. Here is a portion: "Boeing is confident in the design and performance of the 787. It is a safe and efficient airplane that brings tremendous value to our customers and an improved flying experience to their passengers. The airplane has logged 50,000 hours of flight and there are more than 150 flights occurring daily. Its in-service performance is on par with the industry's best-ever introduction into service the Boeing 777. Like the 777, at 15 months of service, we are seeing the 787's fleet wide dispatch reliability well above 90 percent."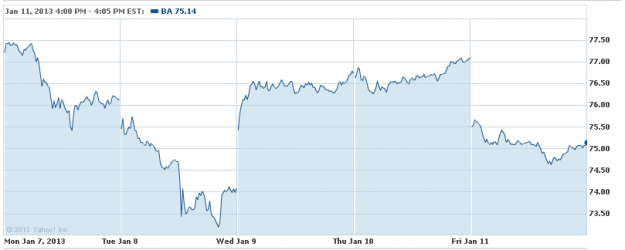 MGM Resorts International (NYSE:MGM): Closing price $12.80
MGM starts off 2013 by filling all its hotel rooms for the International Consumer Electronics Show, expecting an explosion of activity for the year, along with polishing its plans to put a half-billion dollars in improvements into its Las Vegas assets. Additionally, MGM executives found Wednesday that they had jumped through another hoop in the process to establish a second resort in the most lucrative gaming market on earth, Macau.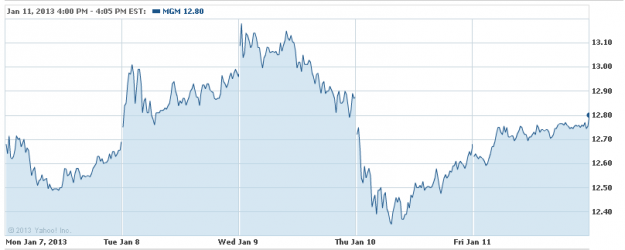 Are these stocks a buy or sell? Let us help you decide. Check out our Wall St. Cheat Sheet Stock Picker Newsletter now >>
Anheuser-Busch InBev (NYSE:BUD): Closing price $87.63
The brewing giant introduces two new beer offerings — Budweiser Black Crown and Beck's Sapphire — that have an alcohol content of 6 percent. The company is gambling that the flavor variations along with higher alcohol content, plus new designs will heighten the two brand families' allure to American beer enthusiasts. A-B's President of United States Marketing Paul Chibe said to the St. Louis Post -Dispatch that "We have American iconic brands and brands that have been part of the brewing tradition going back 800 years. That gives us a great opportunity to deliver on consumers' needs."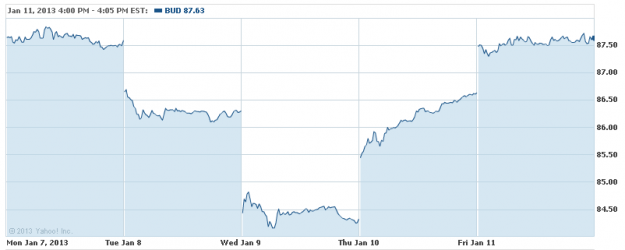 McDonald's Corporation (NYSE:MCD): Closing price $91.73
McDonald's believes that Italy could be one of its higher-growth areas in the coming decade, and is thus launching more than 100 new restaurants there, says Reuters. The company's Italian division will shell out $457 million to that effort and hire 3,000 new employees by 2015, in order to increase its market share.

Don't Miss: Boeing's in the Spotlight: Any Cause for Concern?