4 Consumer Stock Stories on the Menu for Investors
The Coca-Cola Company (NYSE:KO): Current price $36.92
Bai Changbo, vice-president of Coca-Cola Greater China, announced that the firm has filed a police report concerning recent rumors that its orange juice contains illegal fungicide and will hold the perpetrators legally responsible for their statements. Bai remarked that, "We take the move not only to safeguard the reputation of our brand, but also to help create a fair and healthy business environment, an environment where virtue is rewarded and vice punished."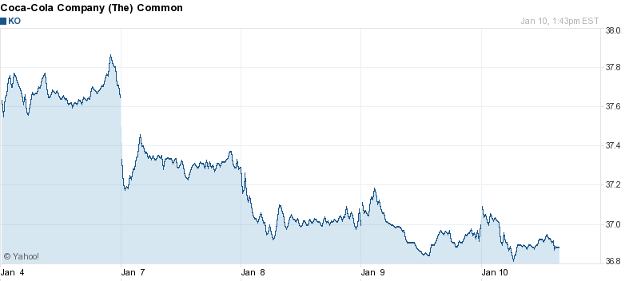 Are these stocks a buy or sell? Let us help you decide. Check out our Stock Picker Newsletter now.
General Motors Company (NYSE:GM): Current price $30.15
Chief Executive Dan Akerson of GM reported that his company is cutting its losses at Opel while it intends to reach its previously stated target of returning the division to the black by mid-decade. However, the automaker previously said it anticipated a 2012 operating loss in Europe of up to $1.8 billion. Akerson also predicted that auto sales in Europe will weaken further in 2013 and Germany could be slipping into recession, shaping the GM's task of turning around its money-losing Opel unit in that region even more formidable. The executive remarked that, "We are realistic about our expectations in the near term. Therefore, we must scale our operations to meet expected demand. I don't think we're being foolish about our projections in Europe over the next couple of years. In fact, I would say we're being brutally honest with ourselves."

CBS Corporation (NYSE:CBS): Current price $38.46
Officially, CBS is sold out of Super Bowl ad spots, but if latecomers are able to shell out BIG bucks, a few accommodations might be had. Single 30-second spots have gone for $4 million a pop, although advertisers who buy in quantity, or later in the game typically get a discount to sticker price. As for the half-time show, Beyonce's presentation be available for living streaming on the Web for he first time. In 2012, NBC lacked the rights to stream the show with Madonna — is that also why that network could not quite manage streaming the London Olympics opening and closing ceremonies?

Pepsico (NYSE:PEP): Current price $70.89
The food and beverage giant Pepsico said on Wednesday that it is partnering with Burger King Corporation as the exclusive vendor of soft drinks in over 100 Burger King restaurants throughout China. The restaurants in that country began on New Year's Day to offer a wide range of Pepsico soft drinks, among which include Pepsi-Cola, 7UP, Mirinda and Tropicana.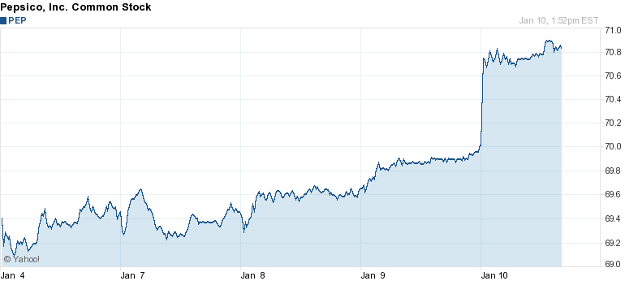 Don't Miss: Did Any Retailers Win Big This Holiday Season?