4 Consumer Stock Stories Providing a Positive Investment Shopping Experience
CBS Corp. (NYSE:CBS): Closing price $53.65
CBS is not allowing unhappy Time Warner Cable subscribers in Los Angeles, New York, and Dallas, whose CBS-owned stations have been blocked for over a week, causing them to miss episodes of Under the Dome, along with some preseason NFL, to keep it from thriving in the ratings. Nielsen reports that CBS was the top rated and most-watched network for the first full week of blackouts; for the week that ended August 11, the network lured an average of 5.51 million viewers and generated a rating of 1.2 in the coveted Adults 18 to 49 demographic.
Are these stocks a buy or sell? Let us help you decide.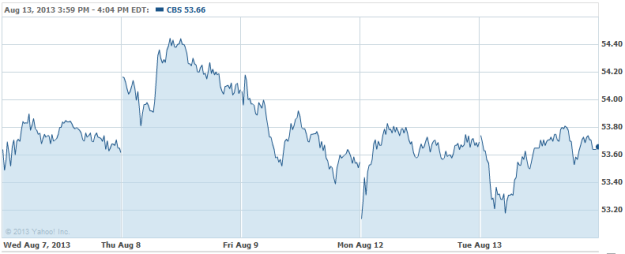 Whirlpool Corp. (NYSE:WHR): Closing price $134.42
On Tuesday, Whirlpool said that it will become a majority shareholder, with 51 percent, in Hefei Rongshida Sanyo Electric Co. Ltd., a home appliances maker based in Hefei, China. Through this agreement, a Whirlpool Corporation subsidiary will buy all shares currently owned by Sanyo Electric Co. Ltd. and Sanyo Electric Co. Ltd., acquiring new Hefei Sanyo shares by means of a private placement. The transaction is subject to the usual conditions, certain termination rights, regulatory approval, and Hefei Sanyo shareholders' approval. Following all the approvals, Whirlpool will buy a majority interest in Hefei Sanyo for roughly $552 million in cash, based on the exchange rate as of August 9.
Are these stocks a buy or sell? Let us help you decide.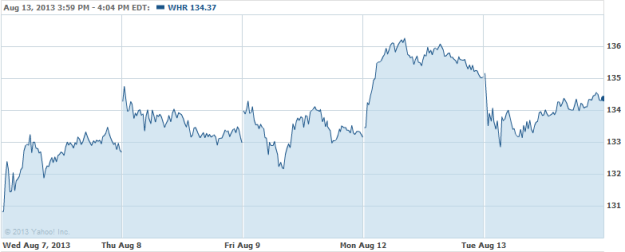 Yum! Brands (NYSE:YUM): Closing price $72.97
Yum! Brands continues to suffer from food safety problems in China, which might have had to do with its shares falling more than 2 percent on the day Tuesday. However, the fast food restaurant operator still anticipates positive same-store sales for the third quarter. Late on Monday, the operator of KFC, Taco Bell, and Pizza Hut reported a 13-percent drop in July same-store sales in China with a 16-percent plummet at its KFC restaurants. Yum! had posted a steadily decreasing decline in same-store sales after reporting a 29-percent drop in April. Yum only experienced a 19-percent drop in May and 10 percent in June.
Are these stocks a buy or sell? Let us help you decide.
The Coca-Cola Co. (NYSE:KO): Closing price $39.65
Coca-Cola intends to run its first ad that will defend the safety of artificial sweeteners on Wednesday as it works to curb declining sales of diet soda. The print ad will in USA Today in the Atlanta area, followed by the Atlanta Journal Constitution on Thursday, and the Chicago Tribune next week. The ad says that diet drinks may assist persons in managing their weight and emphasizes the scientific evidence showing the safety of aspartame, which is more commonly known under the NutraSweet brand name. The ad marks the next step of a campaign that Coca-Cola Co. began in January to push back at critics who charge that its sugary drinks exacerbate obesity rates.
Are these stocks a buy or sell? Let us help you decide.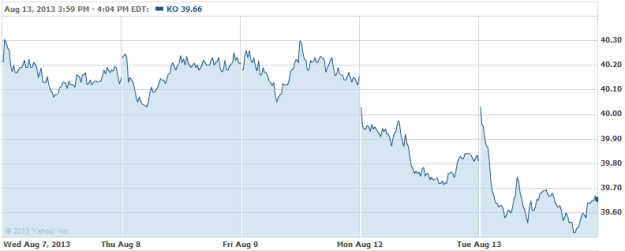 Don't Miss: Are Consumers Losing Their Appetite for This Fast-Food Giant?