4 Consumer Stock Stories Ready for a Big Investment Shopping Weekend
McDonald's Corp. (NYSE:MCD): Closing price $94.77
In a visible sort of payback, this week McDonald's affirmed that it has begun the process of transitioning to other vendors, in reaction to the appointment of former Burger King Worldwide Chief Executive and Vice Chairman Bernardo Hees to run H.J. Heinz Co. A statement released by McDonald's said that,  "As a result of recent management changes at Heinz, we have decided to transition our business to other suppliers over time." The decision apparently puts an end to a long-term endeavor by Heinz officials to gain back ground with the fast food giant that operates over 34,000 locations around the world.
United Parcel Service Inc. (NYSE:UPS): Closing price $95.45
UPS said Friday that it expects to pick up in excess of 34 million packages worldwide on its peak day, December 16. This year, there will be 26 shopping days between Thanksgiving and Christmas, six fewer than 2012, making it the most compressed shopping season since 2002. All told, UPS expects peak season daily volume to jump by 8 percent this year. The National Retail Federation is estimating a 3.9-percent rise in domestic holiday sales.
DISH Network Corp. (NASDAQ:DISH): Closing price $48.67
As it trades at a 13-year high, the satellite-TV provider DISH is moving t0wards the creation of $5 billion or more in added value from a series of airwaves plays that position the firm as a force in mobile broadband. Dish paid $2.78 billion last year for two satellite firms' airwaves that it is setting up for use by ground-based smartphone networks, and pledged to bid $2.2 billion at an auction for the bankrupt LightSquared Inc.'s mobile frequencies. Now DISH is proposing to the Federal Communication Commission that it will ensure the success of a domestic airwaves auction in January, by setting a price floor at $1.56 billion, if it may be permitted to modify uses for airwaves it already has, which would render them more valuable.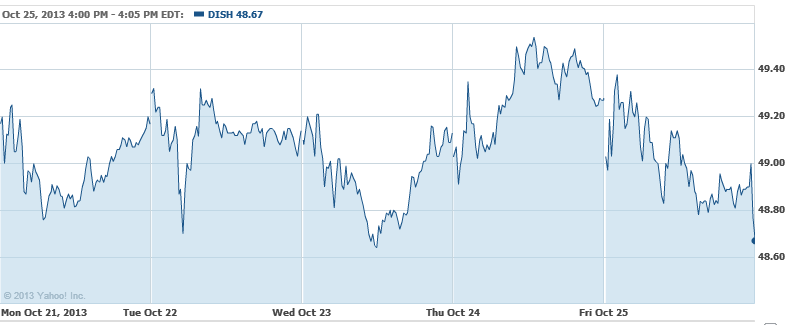 Tesla Motors Inc. (NASDAQ:TSLA): Closing price $169.36
Tesla must have been relieved this week, when United States officials elected not to investigate a Model S battery fire, and California deferred changes to a state program that would remove Tesla's revenue from green-car credits. The National Highway Traffic Safety Administration, in a statement, said Thursday that it found no evidence that the fire on a Washington state highway was caused by a Model S defect or violations of U.S. safety standards. The luxury car struck metal debris that pierced its lithium-ion battery pack, said both state officials and Tesla.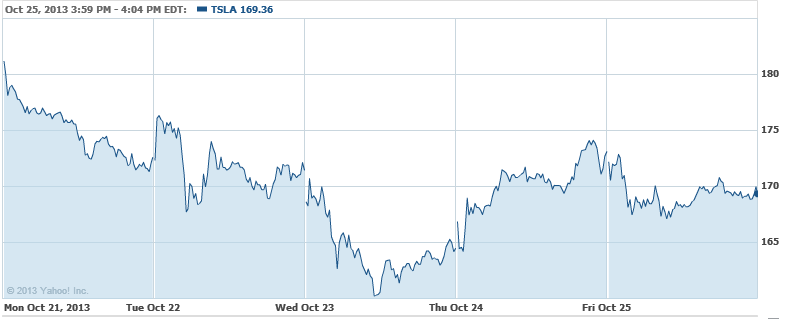 Don't Miss: Boeing: Already Capitalizing Off Resilient Air Travel.