4 Consumer Stock Stories Ready for Savvy Monday Investment Shopping
Chipotle Mexican Grill (NYSE:CMG): Closing price $433.91
Chipotle is bring back its long-standing tradition and popular Halloween fundraiser, Boorito. This Halloween, the restaurant will treat customers dressed in costume to a burrito, bowl, salad, or order of tacos for only $3 from 4 p.m. to closing. Proceeds from the fundraiser of $1 million will go to the benefit the Chipotle Cultivate Foundation.
Chief Marketing Officer Mark  Crumpacker commented that, "We are changing the way people think about and eat fast food, and this annual tradition gives our customers the opportunity to join us in our mission to create a better, more equitable food future. During Boorito, customers can dress in costume and enjoy their favorite menu item from Chipotle for just $3 while supporting a great cause."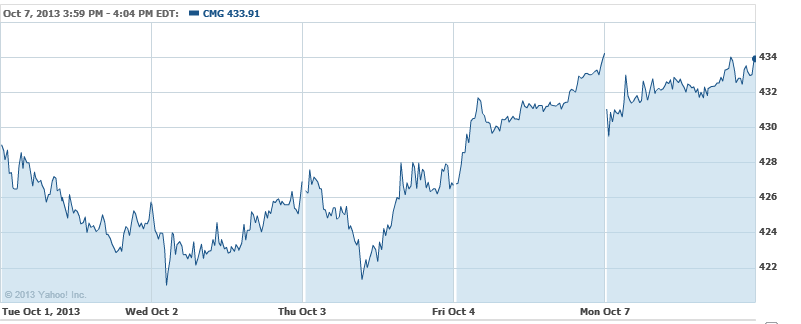 PepsiCo Inc. (NYSE:PEP): Closing price $79.12
Sources to the New York Post say that Nelson Peltz — some time after a primarily solo campaign to induce PepsiCo to split its snacks unit from its beverage division so it could then acquire Mondelez — failed. The activist investor appears to be now trying something similar. In the past several weeks, Peltz's Trian Fund Management has contacted some of PepsiCo's key shareholders to measure the amount of support exists for such a move. According to the sources, if he finds support, Peltz might attempt to obtain a PepsiCo board seat.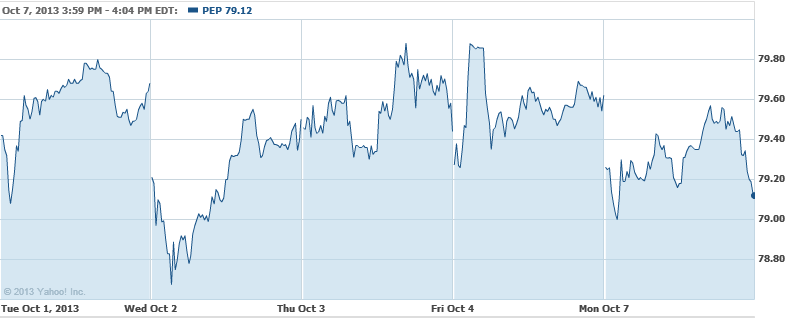 Marriott International Inc. (NYSE:MAR): Closing price $42
As of October 21, the biggest publicly traded domestic hotel chain is moving to the Nasdaq Stock Market from the New York Stock Exchange. The shares will be listed on Nasdaq on that date and will retain the MAR ticker symbol, said a Monday company statement. Nasdaq OMX Group Inc. is the second-biggest American equity exchange operator. Executive Vice President and Chief Financial Officer Carl Berquist observed that, "This will provide us with cost-effective visibility, as well as efficient access to a portfolio of tools and opportunities to reach investors."

Toyota Motor Corp. (NYSE:TM): Closing price $125.68
The United States Supreme Court has left intact an appeal that tried to force arbitration of California lawsuits regarding the brakes in Prius autos. On Monday, the justices in effect did not alter the federal appeals court decision that said Toyota could not enforce the arbitration clauses in its dealers' purchase agreements with customers. The consumers claim that the anti-lock brake system in the model-year 2010 Priuses had a defect that made the cars more difficult to stop, especially on rough surfaces. The consumers do not claim they were injured, but say that Toyota failed to resolve the problem in a 2010 recall, as they urged the Supreme Court to not hear the appeal.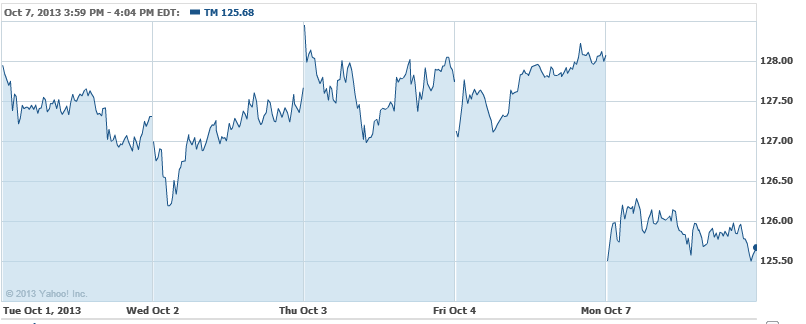 Don't Miss: 7 Automobiles That Show Big Rides Are Here to Stay.