4 Consumer Stock Stories Ready for Your Weekend
Best Buy Co. (NYSE:BBY): Closing price $42.36
Here we go. Best Buy is the most recent retailer to open up earlier on Thanksgiving Day, but this company will up the ante by opening at 6 p.m. across the United States while its competitors will wait until 8 p.m. Stores will stay open all night and close at 10 p.m. on Black Friday. Best Buy spokeswoman Amy von Walter commented in a statement that, "Last year customers clearly showed that they wanted to be out shopping much earlier on Thanksgiving. Our plan this holiday is a direct result of that feedback and provides multiple opportunities for our customers to shop in-store and online, whether at 6 p.m., midnight or on Black Friday."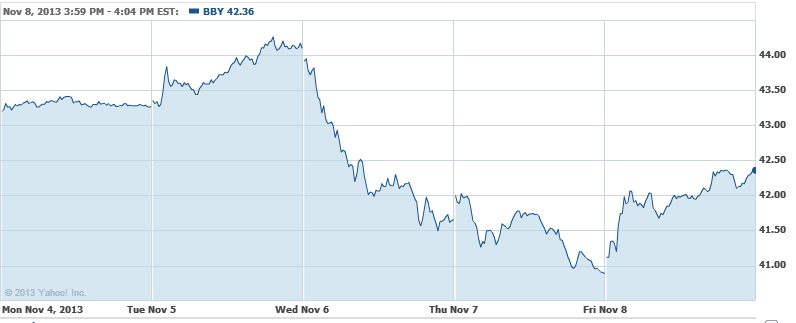 Comcast Corp. (NASDAQ:CMCSA): Closing price $48.07
NBC network said Friday that it has reached a deal with Richard Branson's Virgin Galactic to televise his company's first commercial space flight. Branson and his two adult children will be the first private passengers to travel into space, in 2014, through his company. The launch will be a part of a three-hour special Today show. NBC's Peacock Productions division also will offer programming prior to the flight, across the firms other outlets, which include CNBC, MSNBC, SyFy and The Weather Channel.

Sears Holdings Corp. (NASDAQ:SHLD): Closing price $56.72
Kmart, owned by Sears Holding, said it will introduce a lease-to-own financing program to stores across the country this shopping season. The company has been conducting the program in test markets since October 15 and will make it available in all stores by November 22. Differing from a layaway plan, the lease-to-own program lets customers take home pricey items like as appliances and furniture right away, while paying for the purchase through regular installments.

SodaStream International Ltd. (NASDAQ:SODA): Closing price $56.25
SodaStream intends to use the 2014 Super Bowl to debut its new global ad campaign. The firm was forced to alter 2013′s Super Bowl ad, and said that the event was a "proven venue" that has helped build brand profile and bring "excellent sales growth." So far, no details of the ad have been reported, but 2014 will represent the second year that Sodastream has designed an ad for one of the highly-prized Super Bowl slots, which could run around $4 million for 30 seconds of content.

Don't Miss: Wally World Protestors: "Wal-Mart Wages Hurt America".