4 Consumer Stock Stories Set for Savvy Investment Shopping
CBS Corp. (NYSE:CBS): Closing price $58.59
CBS executives told The New York Times the corporation is working on a 24-hour news channel to be streamed online that would primarily repurpose video and reportage already produced by CBS News. The executives said the channel, if it were to go forward, would not be publicly announced for weeks or even months. The channel is known unofficially known internally as CBS News Stream, according to the executives, who also said that it is a collaboration between CBS News, which is directing the journalistic planning for the channel, and the company's interactive unit, which is taking care of the distribution.

Saks Inc. (NYSE:SKS): Closing price $16
Saks said that its shareholders have overwhelmingly OK'd the previously reported agreement-merger plan with Hudson's Bay Co. at its meeting held Wednesday. Approximately 99.4 percent of the total votes cast, which were about 85.2 percent of the total shares outstanding as of the October 2 record date for the meeting, were voted in favor of the merger. Through the terms, Saks shareholders will receive $16 per share in cash at the close of the transaction. The parties expect the transaction to close on November 4 and that Saks will be delisted from the New York Stock Exchange thereafter.

Tesla Motors Inc. (NASDAQ:TSLA): Closing price $159.79
Tesla on Wednesday announced the inauguration of its West Coast Supercharger Corridor, energizing a network of stations that permit Model S owners to travel for free between San Diego and Vancouver. With stations along U.S. Highway 101 and Interstate 5, the West Coast's key routes, cities and destinations there are now linked by Tesla Superchargers. More than 99 percent of Californians and 87 percent of Oregon and Washington owners are now within 200 miles of a Supercharger, according to the company.

Lululemon Athletica Inc. (NASDAQ:LULU): Closing price $70.67
Lululemon has recruited a new chief product officer, bringing in Kmart executive Tara Poseley to help fill a role left unoccupied after its see-through yoga pants fiasco. Poseley is president of Kmart Apparel, part of Sears Holdings Corp., and has also worked in top leadership positions at retailers Bebe Stores Inc., Disney Stores North America, and Design Within Reach. Lululemon's former chief product officer, Sheree Waterson, left Lululemon in April, shortly after the company had to withdraw some of its expensive yoga pants from shelves after finding they were excessively sheer.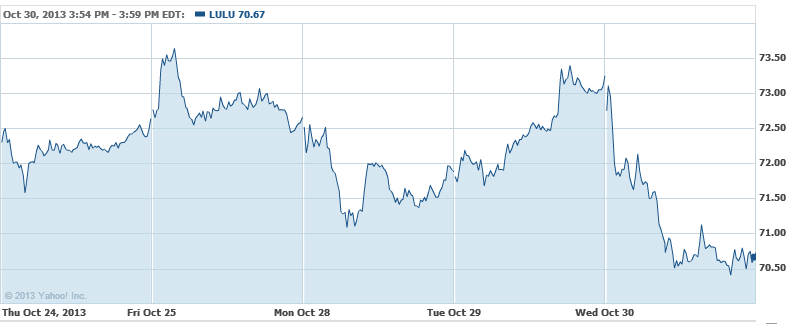 Don't Miss: Wal-Mart's Promotion Spree: Good Policy or Just Good Press?