4 Consumer Stock Stories Suitable for Savvy Investment Shopping
Amazon.com Inc. (NASDAQ:AMZN): Closing price $364.66
As a part of an increasing list of complaints, Amazon has been accused of damaging a number of PlayStation 4 units during shipping, surrounding the device's hugely-anticipated launch. Meanwhile, Sony said it is working with its retail partners to fix or exchange PlayStation 4 consoles after a bunch of complaints from customers regarding the new device, saying that it was broken or malfunctioning when it arrived at some of their residences. Both firms say that the number of affected customers is low, and that most of the devices are working fine.
Mondelez International Inc. (NASDAQ:MDLZ): Closing price $33.67
On Tuesday, Mondelez said that it will invest more than $100 million in a state-of-the-art biscuit manufacturing facility at its Opava site in the Czech Republic, and that the investment will create 200 new positions making Oreo cookies and Belvita breakfast biscuits. Since 2009, net revenues for Oreo and Belvita have jumped by 25 percent and 18 percent, respectively, in Europe. This factory will create new capacity to let the business keep pace with future demand.

Tesla Motors Inc. (NASDAQ:TSLA): Closing price $126.47
With the backdrop of the federal government launching a formal inquiry into the safety of Tesla Model S battery systems, Chief Executive Elon Musk is questioning why the electric car is being scrutinized, tweeting, "Why does a Tesla fire w/ no injury get more media headlines than 100,000 gas car fires that kill 100s of people per year?" The tweets are among the most recent public comments from Musk, who is defending the safety of the Model S. Last week at the New York Times Dealbook Conference, he was questioned about the Model S inquiry and didn't hesitate to declare that the popular electric car will not be recalled.

Staples Inc. (NASDAQ:SPLS) Closing price $15.34
Making another endeavor aimed at growing business via partnerships with retail majors, the United States Postal Service is moving into Staples stores. The financially beset USPS will open pilot units at 82 Staples locations spanning the United States, with the potential for expansion to some of the office-supply firm's other domestic locations. The first centers opened earlier in November. The new centers will be run by outside employees, offering the majority of postal items including stamps, mail services and package delivery.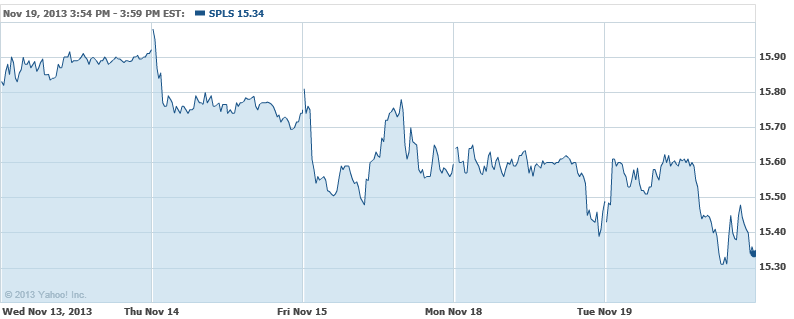 Don't Miss: Food Fight! 5 Foods With Strong Regional Allegiances.