4 Consumer Stock Stories to Begin the Week's Investment Shopping
Wynn Resorts Ltd. (NASDAQ:WYNN): Closing price $165.03
The Wynn Resorts board recently assembled to explore the feasibility and opportunities linked with the firm's domestic development in Philadelphia. At this time, the body has decided that the best course for Wynn is to pursue business opportunities elsewhere. The board took into consideration several factors, including the Philadelphia market performance during the past year and the competition that will come from the recent approval of gaming in the state of New York. Because of these considerations, the company will withdraw its licensing applications in Pennsylvania, according to a Wynn Resorts statement.

Sony Corp. (NYSE:SNE): Closing price $16.63
As Sony gets ready to release the PlayStation 4 game console this week, it projects sales of 3 million units globally by the end of December while it exploits its early advantage over Microsoft Corp.'s (NASDAQ:MSFT) Xbox One. President and CEO of U.S. computer entertainment Jack Tretton said that Sony will have sufficient supplies of the $399 PS4 through the holidays and stands by earlier forecasts for sales of 5 million units by March. Tretton said to Bloomberg: "This is a marathon, not a sprint, but getting out to a nice start is a good thing to do. That hurdle has been cleared. We're very, very confident we're in great shape."
Michael Kors Holdings Ltd. (NYSE:KORS): Current price $81.07
Michael Kors will replace NYSE Euronext Inc. in the S&P 500 after the close on Tuesday. S&P 500 constituent IntercontinentalExchange Inc. is buying NYSE Euronext in a deal estimated to be completed on or about that date. Michael Kors works in the design, marketing, distribution, and retailing of branded women's apparel and accessories, as well as men's apparel, and is based in Hong Kong. The firm will be added to the S&P 500 Global Industry Classification Standard Apparel Accessories & Luxury Goods Sub-Industry index.

PepsiCo Inc. (NYSE:PEP): Closing price $85.37
PepsiCo, one of the biggest food and beverage businesses in India, on Monday announced it intentions for it and its partners to invest more than $5 billion in that country by 2020. India currently represents one of PepsiCo's largest markets worldwide. This investment should further reinforce and expand PepsiCo's capabilities in several strategic areas, including those of manufacturing, innovation, and agriculture.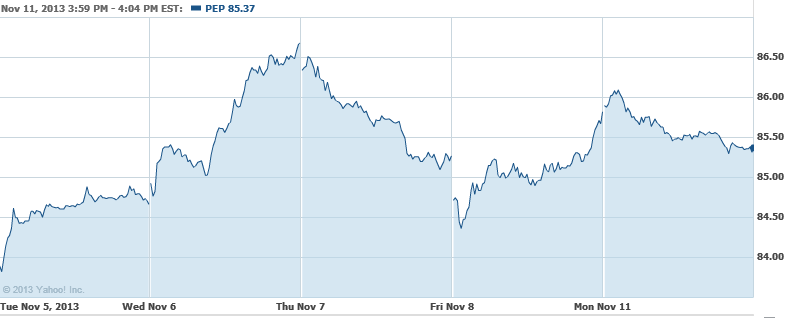 Don't Miss: Starbucks Toasts to Veterans With This New Hiring Commitment.