4 Consumer Stock Stories to Catch Investor Interest
United Parcel Service (NYSE: UPS): Closing price $82.72
On Thursday, UPS reported that it has formed a strategic partnering with Jabil Circuit. The former's logistics and distribution business division and Jabil Aftermarket Services will supply optimized reverse logistics solutions for return and repair programs to high-tech original equipment makers, service providers and enterprises on a worldwide scale.

Ingersoll-Rand (NYSE:IR): Closing price $53.05
The activist investor Ralph Whitworth has been discretely building an interest in the equipment maker Ingersoll Rand, a move that further presses the firm to remake its business. Whitworth is known for forcing change on Home Depot and Sovereign Bank and is likely to disclose in a regulatory filing Thursday that he has accumulated almost a 4-percent stake in the $16 billion industrial conglomerate.
Are these stocks a buy or sell? Let us help you decide. Check out our Stock Picker Newsletter now.

The Home Depot (NYSE:HD): Current price $67.35
Home Depot will replace thousands of BlackBerry smartphones for the use of its managerial and corporate staffers with Apple's iPhone 4S, says Apple Insider, which explained that the retailer will displace around 10,000 Blackberry smartphones, but it will not yet affect the 60,000 Motorola smartphones used by store employees.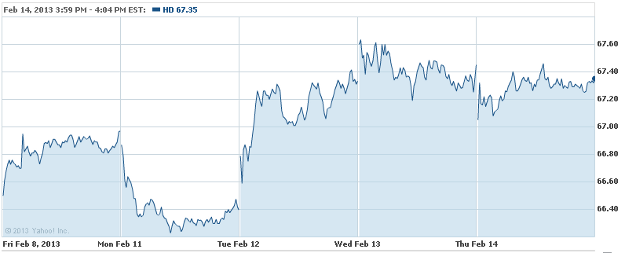 eBay (NASDAQ:EBAY): Closing price $56.83
The company reported Thursday that it will hire 450 people in Ireland, a move coming nearly a year after giving the country its largest post-crisis job boost by taking on 1,000 new workers at its payment service PayPal. Ireland still has one of Europe's highest unemployment rates, which has stayed above 14 percent for almost two and one-half years, and its public sector continues to shrink, but it has been able to lure Google and Facebook to Dublin because of its its low corporate tax rates.

Don't Miss: What is Going on With Richard Schulze's Plan to Take Best Buy Private?