4 Consumer Stock Stories to Elicit Investor Chatter
J.C. Penney & Co. (NYSE:JCP): Closing price $19.36
Chief Executive Ron Johnson intends to sack a minimum of 10 percent  of the remaining 3,000 employees at the firm's home offices in Plano, Texas in February, according to sources to The New York Post, some of which are calling the move the "St. Valentine's Day Massacre."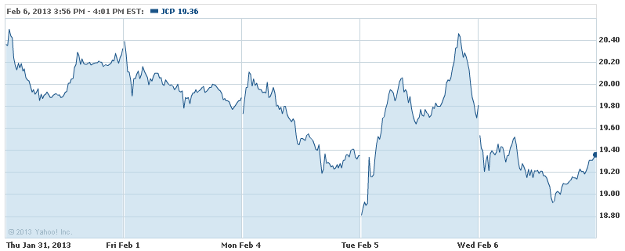 Ford Motor Company (NYSE:F): Closing price $13.18
Ford reported that vehicle sales in China almost doubled in January year-over-year from 2012, pushed by demand for its top-selling Focus sedan. In January, the company sold 61,475 passenger cars and commercial vehicles wholesale in China, marking a 98 percent-increase over 2012, while passenger vehicle sales jumped by 135 percent to 44,439 and commercial deliveries rose 42 percent to 17,128 units. In 2013, aggregate vehicle sales in China are forecast to top 20 million for the first time ever as the economy roars back, according to estimates from the China Association of Automobile Manufacturers.

Are these stocks a buy or sell? Let us help you decide. Check out our Stock Picker Newsletter now.
Home Depot (NYSE:HD): Closing price $66.67
The home improvement retailer has begun the process of filling in excess of 80,000 seasonal positions to assist customers during its busiest selling season. Spring serves as Home Depot's yearly peak season, similar to the holidays selling season for most retailers. For Spring 2013, the company is recruiting ten thousand more associates than it did in 2012 in support of anticipated sales growth during the season.

Toyota Motor Corporation (NYSE:TM): Closing price $102.78
Toyota moves its fiscal year 2013 revenue estimate up to ¥21.8 trilllion from 21.3 trillion. Further, the company revised its consolidated vehicles sales forecast for fiscal year 2013 up from 8.75 million units to 8.85 million, marking an increase of 100,000 units from the prior prediction in November because of the increased overseas vehicle sales, mostly in North America.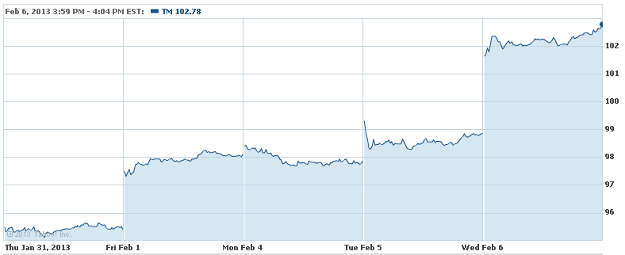 Don't Miss: Which Airlines Have Outperformed in 2013?