4 Consumer Stock Stories to Get Midweek Investment Shopping Underway
Toyota Motor Corp. (NYSE:TM): Closing price $126.09
The Toyota Camry seems to be bound for a 12th consecutive year as the top-selling car in the United States, its U.S. sales chief Bill Fay says that it will get "significant attention," including freshened features so as to hold the title a 13th year. Fay commented at the Los Angeles Auto Show that, "There were some who wanted to write Camry off this year and it didn't happen. We'll  make some effort through the collective team to keep it No. 1 next year." The sales chief also said that demand for new cars and trucks remains robust as the year winds down.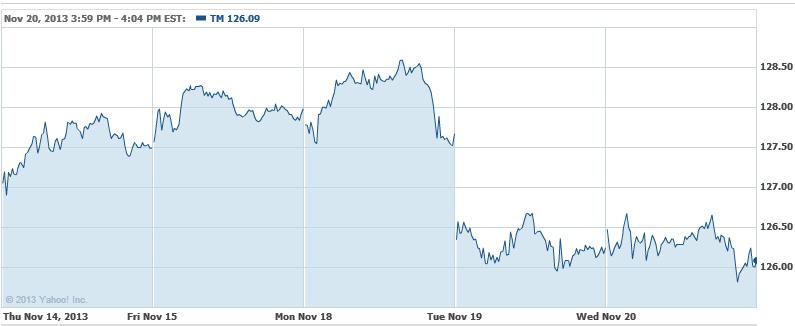 The Wendy's Co. (NYSE:WEN): Closing price $8.50
On Wednesday, Wendy's announced plans to divest 54 restaurants, including one in development in the Salt Lake City market to a subsidiary of NPC International, Inc., the eighth-biggest restaurant operator in the United States with over 1,200 restaurants. Presently, the operator has a total of 37 Wendy's restaurants across two states. Back in July, Wendy's announced plans to geographically concentrate its restaurant ownership via the sale of some 425 company-operated restaurants in 13 domestic markets, mostly in the West.
Comcast Corp. (NASDAQ:CMCSA): Closing price $46.85
Comcast has started selling movies on TV and online, not a week following reports that the cable major is mulling the launch of such a digital storefront. The pay television provider is allowing subscribers purchase movies several "weeks before they are available on DVD or for rental," says its xfinitypurchases.com. Among the new titles available are Red 2 (before its Tuesday DVD release), 2 Guns and Fast & Furious 6. Recent hits such as The Hunger Games, Despicable Me, Bridesmaids, Ted, The Expendables, and the Twilight series are also being offered, along with older titles like the Back to the Future trilogy, Dirty Dancing, E.T., Apocalypse Now, and Jaws.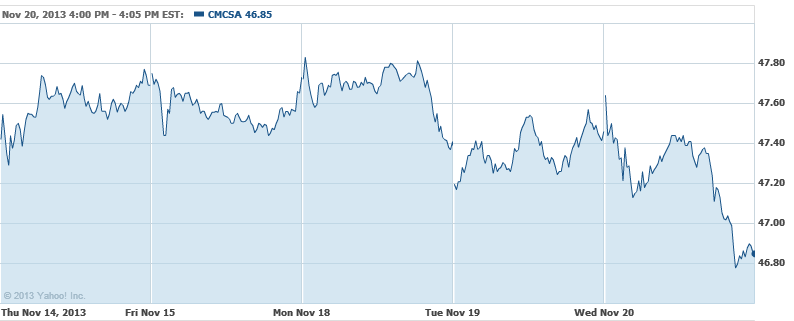 Yum! Brands Inc. (NYSE:YUM): Closing price $72.33
Yum, on Wednesday, announced the expiration of and final results of its previously reported cash offers to buy up to $550 million aggregate principal amount of certain of its senior unsecured notes. The terms and conditions of the tender offers are described in the offer to purchase, dated October 22, and the related letter of transmittal. As previously said on November 5, the tender cap was raised from $525 million to $550 million, and the tender sub-cap applicable to the 6.875 percent senior notes due 2037 was increased from $250 million to $275 million.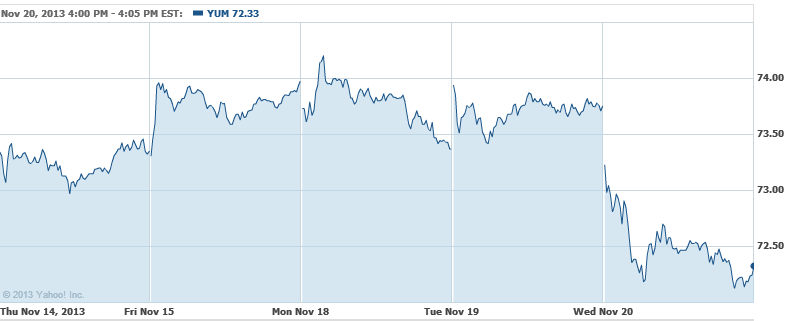 Don't Miss: Will a Boycott Cast a Dark Cloud Over Wal-Mart's Black Friday?