4 Consumer Stock Stories to Kick Off Thursday Investment Shopping
General Motors Co. (NYSE:GM): Closing price $38.52
Knowledgeable persons are saying that Chief Executive Dan Akerson might step down as soon as 2014, although he has not formally advised the board of his plans, and no official search for his successor has commenced. One source reported that General Motors' board is not in a particular hurry to see Akerson exit, and has not set in place a timeframe for recruiting an executive search firm to explore potential internal or external candidates. Chatter regarding Akerson's departure gained traction in April, at which time General Motors disclosed in a securities filing that his compensation plan had been modified.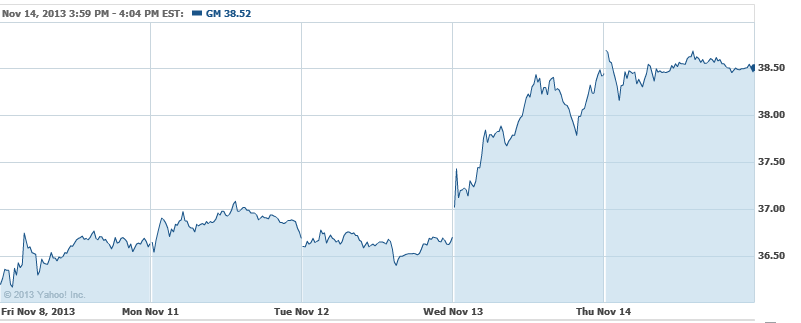 Kimberly-Clark Corp. (NYSE:KMB): Closing price $109.77
On Thursday, Kimberly-Clark announced that its board has authorized management to pursue a potential tax-free spin-off of its healthcare arm. A spin-off would form a standalone, publicly traded health care firm having around $1.6 billion in annual net sales, and dominant market positions in both surgical and infection prevention products and medical devices. Management will continue to examine a potential spin-off, and expects to make a final recommendation to the board in the next several months. If the board okays a spin-off, a transaction would likely be finished by the end of the third quarter of 2014, dependent upon market, regulatory, and other conditions.

Sotheby's (NYSE:BID): Closing price $50.73
On Wednesday, a rare 1963 Andy Warhol painting that depicts the immediate aftermath of a car crash went for $105 million at a New York City auction, establishing a record for the pop artist, according to Sotheby's. The 8- by 13-foot painting, Silver Car Crash (Double Disaster), depicts a twisted body sprawled across a car's mangled interior. The work has only been seen once in public in the past 26 years. The buyer was not immediately identified.

Costco Wholesale Corp. (NASDAQ:COST): Closing price $123.74
The Costco France chief Gary Swindells says that the warehouse club major intends to open 15 stores in France, marking its first venture into continental Europe, within a decade, with as many as six in the Paris region. The first store is scheduled for the town of Villebon-sur-Yvette, southwest of Paris, in the spring of 2015.
Don't Miss: Here Is Why Wal-Mart's Q3 Revenue Increase Didn't Cut It.