4 Consumer Stock Stories to Kick Off Wild Weekend Investment Shopping
Comcast Corp. (NASDAQ:CMCSA): Closing price $47.73
Comcast intends to offer newly-released and older movies, along with TV episodes from previous seasons via its VOD menu, which prior to this only offered titles to rent, according to the Wall Street Journal. Now, subscribers will be able to buy titles from their cable box or a website and store them in the cloud, permitting them to watch that content on a television, computer, or tablet. The new service should debut in limited form by the end of 2013 and be available to customers who choose its digital service, or some 20 million households.
US Airways Group Inc. (NYSE: LCC): Closing price $23.95
US Airways and AMR Corp,. whose principal operating subsidiary is American Airlines, Inc. announced on Friday that they have applied to list the common stock of the combined entity on the NASDAQ Global Select Market. Once the merger closes, and upon AMR's emergence from Chapter 11, the combined company will be renamed American Airlines Group Inc. and will use the ticker symbol "AAL." Beyond that, the common stock of both US Airways Group, Inc. and AMR Corporation will be cancelled, and shareholders will receive equity interests in American Airlines Group Inc. pursuant to the terms of the merger agreement and plan of reorganization.

Cooper Tire & Rubber Co. (NYSE:CTB): Closing price $23.83
The dispute goes on. Apollo Tyres Ltd., which had agreed to acquire Cooper Tire & Rubber at $35 a share, told Delaware Supreme Court justices in a filing Friday that there is no urgency to fast-track the appeal of a decision in its favor. A Delaware Chancery Court judge decided November 8 that all contract conditions had not been met, and thus he could not compel Apollo, which requests a lower price, to finish its $2.5 billion buyout. Cooper then appealed and asked Delaware's top court to rule by December 31. For its part, Cooper was supposed to release third-quarter financial statements within 45 days of the end of the fiscal quarter, that is, Thursday, but has not, according to attorneys for Apollo.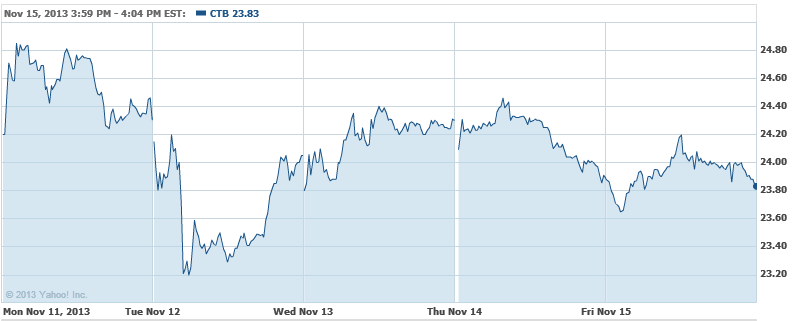 Delhaize Group (NYSE:DEG): Closing price $57.31
The supermarket chain Food Lion, which is subsidiary of Delhaize America, has reported significant investments in 169 stores in its home state  of North Carolina. The action has created up to 500 jobs in  the region. Delhaize America is the Unites States arm of Food Lion that has injected money into its stores in Wilmington and Greenville in  North Carolina along with Columbia, Charleston, and Myrtle Beach in South Carolina.

Investing Insights: What Will Kohl's Do After This Earnings Release?