4 Consumer Stock Stories to Maximize Midweek Investment Shopping
Nielsen Holdings NV (NYSE:NLSN): Closing price $36.63
The worldwide supplier of metrics and statistics on consumers' cultural consumption that is best known for its television ratings has finalized its purchase of Arbitron Inc., the marketing and media research company best known for its domestic radio ratings. In the transaction, Nielsen bought all the common stock of Arbitron, priced at $48 per share, in a deal coming to $1.3 billion. The buyer predicts a rise of 26 cents in per-share value during the initial year, increasing to 32 cents in the next.
Arbitron will be renamed Nielsen Audio and integrated into Nielsen's U.S. Watch business unit, responsible for generating insight and information into mobile, TV, online, and radio consumption for media and advertising firms.

United Continental Holdings Inc. (NYSE:UAL): Closing price $30.93
United Continental should benefit after its Japanese partner, ANA Holdings Inc., received 11 additional takeoff and landing rights at Haneda in Tokyo. ANA, which is Japan's number-one airline, was granted more of the international slot pairs by the government than Japan Airlines Co., which received only five. The decision marks a transition from the past when the carriers shared international slots equally. ANA and United, which hopes for the first slot of its own at Haneda, are both members of a worldwide group of carriers known as the Star Alliance.

Staples Inc. (NASDAQ:SPLS): Closing price $15.13
On Wednesday, Staples announced the purchase of Runa, which specializes in e-commerce personalization tech, one of a number of recent moves the retailer has been making to better rival with Amazon and others in the online sale of office supplies. A spokesperson for Staples affirmed that this marks the firm's first acquisition of a Silicon Valley startup, and it appears that Staples will be using the deal to begin doing more in the space of e-commerce, and Silicon Valley.

J.C. Penney & Co. (NYSE:JCP): Closing price $8.72
JC's 5 Star Outlet/JCPenney Outlet announced Wednesday that it will wind down its operations and shut all 15 of its stores thoughout 14 states. The company will initiate going out of business or total inventory blowout sales Wednesday to start the liquidation of clothing and other merchandise valued at $70 million. The outlet stores, which are designated for closure by J.C. Penney, were bought two years ago by SB Acquisitions.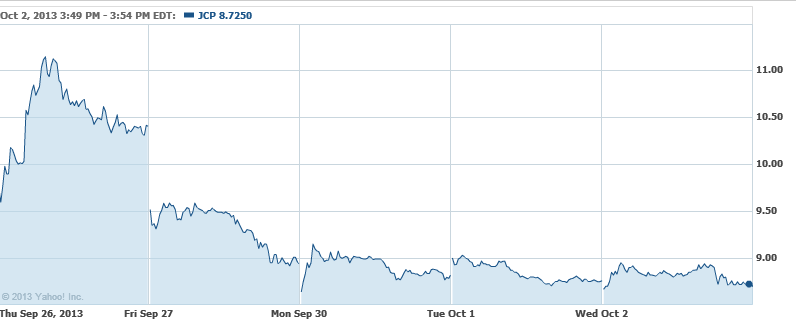 Investing Insights: Is J.C. Penney Stock Doomed?