4 Consumer Stock Stories to Start the Short Week
The Walt Disney Company (NYSE:DIS): Current price $52.67
The company's Chief Executive Robert Iger saw a 20 percent boost to his 2012 compensation which totaled $40.2 million, according to regulatory filings. In a breakdown, his base salary was $2.5 million, then stock awards of $9.5 million, and finally a cash-and-stock bonus of around $24.3 million. Disney said that 92 percent of Iger's total package was based on its  financial results and stock performance and that, "In our meetings with shareholders, there was broad agreement that Mr. Iger's performance as chief executive officer has been excellent."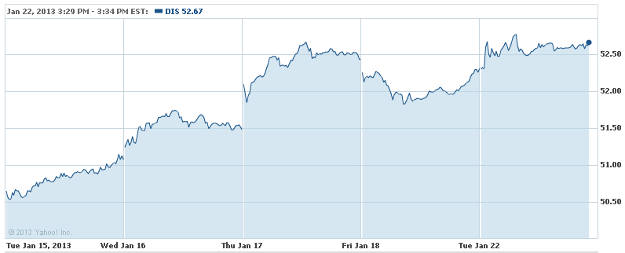 The Boeing Company (NYSE:BA): Current price $74.17
Boeing will suspend deliveries of its grounded 787 Dreamliner while it pushes to meet a United States Federal Aviation Administration directive to  make sure that the plane's lithium-ion batteries are safe. Company spokesperson Marc Birtel said that, "Production of 787s continues. We will not deliver 787s until the FAA approves a means of compliance with their recent airworthiness directive concerning batteries and the approved approach has been implemented."

Are these stocks a buy or sell? Let us help you decide. Check out our Wall St. Cheat Sheet Stock Picker Newsletter now >>
Yelp (NYSE:YELP): Current price $20.01
The reviews site Yelp has now added restaurants' health-inspection grades, providing users yet another criterion through which they can decide where to dine. Yelp said on Thursday that city-provided health score information will be first available in San Francisco, with restaurant grades in New York City in the coming weeks.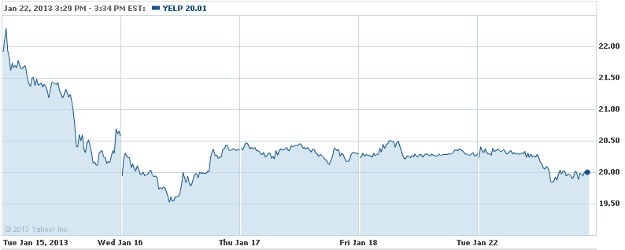 Target Corporation (NYSE:TGT): Current price $61.45
Target launches six brands to be available exclusively online, including Zutano Blue, Labworks,  Room 365, MudHut, Boho Boutique and TOO by Blu Dot. While continuing to lure shoppers into its physical stores with sales and other incentives, the company understands the need to change along with their customers' habits. Theresa Schmidt, the Target divisional merchandise manager, recognizes that consumers are going online more often to shop from the comfort of their own homes, saying that,"We're excited about these new brands and how they're helping us further differentiate Target.com from other online retailers. We know our guests are increasingly connected and are shopping online more, so we wanted to offer guests something new, unique and unexpected."

Don't Miss: Costs Grow for Grounded Boeing Fleet.