4 Consumer Stock Stories to Ward Off the Monday Blues
General Motors Company (NYSE:GM): Closing price $28.83
Chairman and Chief Executive Dan Akerson announced Monday that GM will shell out $600 million for upgrades at its assembly plant in Kansas City, an investment which he believes will ensure the factory's long-term viability. Building of  a new 450,000-square-foot paint shop, stamping press and efficiency enhancements at the Fairfax Assembly Plant will commence in 2013 and should take about two years for completion.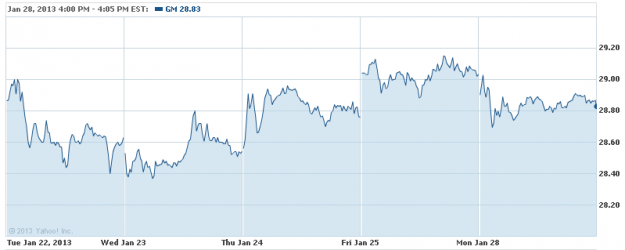 Markets are at 5-year highs! Discover the best stocks to own. Click here for our fresh Feature Stock Pick now!
Time Warner Cable (NYSE:TWC): Closing price $100.88
Time Warner agrees to be SportsNet LA's charter distributor and will now carry the new network for its customers throughout Southern California and Hawaii under a long-term affiliation arrangement. In return for agreeing to make payments during the life of the deal, the company will be the exclusive advertising and affiliate sales agent for the new network and will have certain branding and programing rights connected to it. Additionally, Time Warner will supply certain non-game production and technical services to American Media Productions, which in December launched a new Los Angeles Dodgers regional sports network.

Yelp (NYSE:YELP): Closing price $20.99
Hundreds of firms have brought complaints against Yelp, contending that it skewed reviews to favor advertisers, according to the Boston Business Journal. Thus far, the public records resource MuckRock has published 685 complaints against Yelp, of which nany were from small business owners who claimed that after refusing to buy ads on Yelp, positive reviews disapeared from the site, while negative ones were highlighted.

J.C. Penney & Co. (NYSE:JCP): Closing price $19.22
On the occasion of the first anniversary of its dramatic policy change when Chief Executive Ron Johnson vowed to virtually get rid of the sales that lure shoppers but that cut into a store's profits, the historic retailer is now bringing sales back. This very week, Penney's will begin adding back some of the hundreds of sales it did not conduct last year in hopes of bringing traffic that would have been put off when the discounts were over. Also, the company intends to place price tags or signs for more than half of its merchandise, so as to prove to customers how much they're saving by shopping at the mid-priced chain.

Don't Miss: Which Car Manufacturer Took Top Honors in 2012?