4 Crucial Financial Stock Stories to Take to the Bank
Citigroup (NYSE:C): Current price $42.35
The now former chief investment officer of its private bank, Richard Cookson, has been sacked. The lender will no longer depend upon one person to lead its investment strategy and will rather try for "better leverage the existing in-house expertise across Citi," which includes its markets and banking research teams, said an internal memo, a copy of which was obtained by Bloomberg News. In December, Chief Executive Michael Corbat announced that Citigroup will slash some 11,000 jobs while also closing branches and pulling back from certain emerging markets as revenue attenuates at world banks.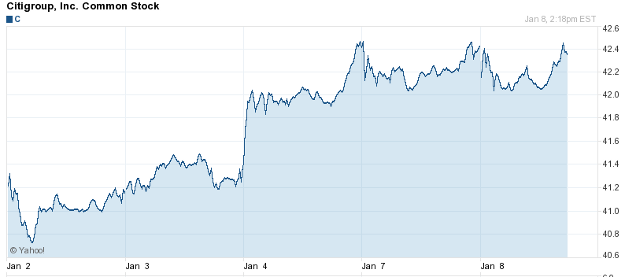 Are these stocks a buy or sell? Let us help you decide. Check out our Stock Picker Newsletter now.
MetLife (NYSE:MET): Current price $36.03
The largest domestic life insurer, MetLife, has been told that the Federal Reserve agreed with an extension of a deadline for it to submit a capital plan until June 30th, while the firm works to exit banking so as to restrict regulatory oversight. Chief Executive Steven Kandarian had been disallowed by the Fed from hiking the dividend or buying back shares while regulators considered how the largest United States banks would do in a financial crisis.
American International Group (NYSE:AIG): Current price $35.64
Now that its $182 billion government bailout has been paid back, AIG has been running a nationwide ad campaign with the tagline "Thank you America." But inside the company, a matter of discussion is whether to officially tell the regulators (by joining a lawsuit) that the government's taking of what became a 92 percent interest led to the deal's high interest rates and the funneling of billions to the insurer's Wall Street clients and deprived shareholders of tens of billions of dollars along with violating the Fifth Amendment which prohibits the taking of private property for "public use without just compensation."
JPMorgan Chase & Co. (NYSE:JPM): Current price $45.24
The former head of the investment bank at J.P. Morgan, James "Jes" Staley, is joining the $12 billion hedge fund BlueMountain Capital as a managing partner, says the Wall Street Journal, which added that Staley is buying a stake in BlueMountain. Inside sources say that Staley will help lead the anticipated growth of the company, which is said to be poised for a standout year in which to add clients and assets.
Don't Miss: Will AIG Sue the Government?