4 Energy Stock Stories at the Pump
Chesapeake Energy Corporation (NYSE:CHK): Closing price $16.73
Observers and investors do not appear to believe that the changes the natural gas producer announced on Monday are moving its turnaround quickly enough, as shares fell by another 2.2 percent Thursday, extending losses for the week thus far to almost 5 percent. During the past 12 months, Chesapeake shares have lost 28 percent, as investors impatiently await updates regarding the its asset-sales program, which is the crux of its struggle to remain solvent. It had been anticipated that the program would be concluded in 2012, but now reaches into 2013.
Royal Dutch Shell (NYSE:RDSA): Closing price $69.18
Had Shell's Kulluk drillship remained in Alaska until January 1st, the company could have been liable for million of dollars in state taxes, hence the risky move during extreme weather conditions, said Congressmen Ed Markey (D-MA) in a letter sent on Wednesday. Alaska law allows an annual tax of 2 percent to be assessed on drilling equipment on that date. Markey is the lead Democrat on the House of Representatives Natural Resources Committee, and his allegations only add to the already-intense political scrutiny of Shell's ambitious and star-crossed Arctic drilling foray in 2012.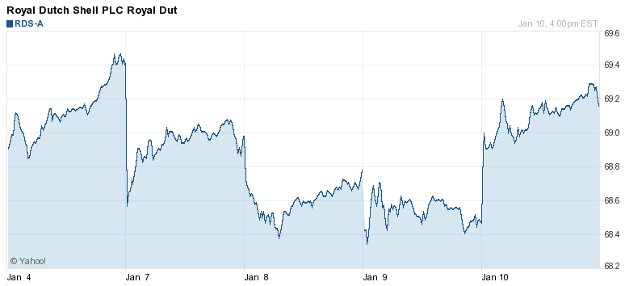 Are these stocks a buy or sell? Let us help you decide. Check out our Wall St. Cheat Sheet Stock Picker Newsletter now >>
Kinder Morgan Energy Partners (NYSE:KMP): Closing price $87.30
On Thursday, Trans Mountain Pipeline, which is operated by Kinder Morgan Canada, and is a subsidiary of Kinder Morgan Energy Partners, released an update to the scope of its proposed expansion of the Pipeline. Thanks to a recently finished supplemental open season process, new long-term contracts have been made possible, bringing the total volume of committed shippers to around 700,000 barrels per day. These additional commitments will allow an increase in the proposed expansion capacity from 750,000 to 890,000 barrels per day. The expansion marks a capital investment of $5.4 billion, and will complete the twinning of the current pipeline from Strathcona County, Alberta, to Burnaby, British Columbia.

Chevron Corporation (NYSE:CVX): Closing price $110.47
Chevron released its interim update Thursday, which said that its earnings for the fourth quarter should be notably higher than those in the third quarter. Upstream results are forecast to be higher between sequential quarters, stemming from increased gains on asset transactions and higher liftings. Also, it is anticipated that downstream earnings in the fourth quarter will to be higher, largely due to a positive swing in timing effects, in the face of a sharp slump in industry refining margins.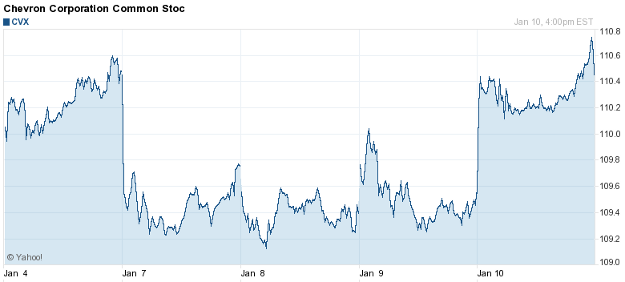 Investing Insights: Can General Motors Re-Take the Title of Top Global Automaker?