4 Energy Stock Stories Attracting Thursday Attention
BP (NYSE:BP): Closing price $41.78
On Thursday, the Russian state oil major Rosneft offered to take over the small shareholders in TNK-BP Holding, but said that it would pay less for the shares than the price at the time of the acquisition back in March. Chief Executive Igor Sechin remarked that Rosneft was not a "charity fund" when it purchased TNK-BP and had not intended to buy out minority shareholders, triggering complaints from them and questions from global investors regarding corporate governance in Russia. Following the TNK-BP deal, Rosneft became the biggest oil producer on the planet by output, pumping 4.5 million barrels per day, which is almost  nearly half of Russia's total, However, its capitalization at $74 billion is but a fraction of that of ExxonMobil.
Are these stocks a buy or sell? Let us help you decide.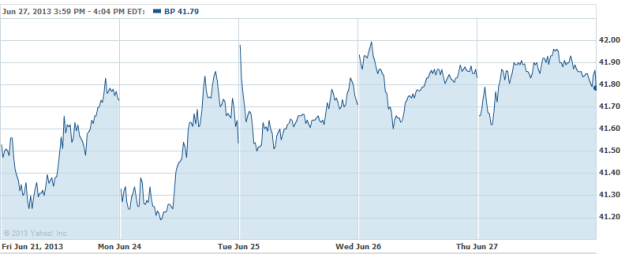 Kinder Morgan Energy Partners (NYSE:KMP): Closing price $85.20
For the second time in  two weeks, Kinder Morgan has shut down its Trans Mountain pipeline in British Columbia because of an oil leak. This second incident took place 40 kilometers east of Hope, on the same day the firm planned an open house in Metro Vancouver to talk about its proposal to expand the line that runs from Alberta to the port of Vancouver. Company spokesman Andy Galarnyk reported, "We saw some oil staining in the soil," describing how Kinder Morgan crews found the leak. Galarnyk noted that sensors had pinpointed some kind of trouble on the line, remarking that "we were there to investigate this anomaly."
Are these stocks a buy or sell? Let us help you decide.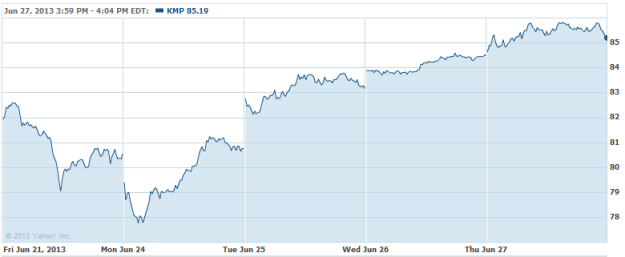 Enbridge Energy Partners (NYSE:EEP): Closing price $30.45
Enbridge reported Thursday that it has exercised its options to reduce its economic interests in the Lakehead system expansions of both the Eastern Access and Mainline Expansion projects to 25 percent from 40 percent. Beyond that, Enbridge Partners and certain of its subsidiaries intend to make an agreement on June 28 with a subsidiary of Enbridge, whereby the latter will acquire the accounts receivables of certain of EEP's subsidiaries on a monthly basis through 2016, until EEP's large growth capital commitments are permanently funded.
Are these stocks a buy or sell? Let us help you decide.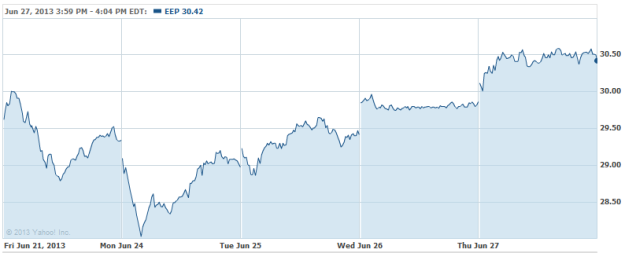 Seadrill Limited (NYSE:SDRL): Closing price $40.56
Norway's Seadrill and Malaysia's SapuraKencana have won a $2.7-billion contract from the Brazilian giant Petrobras for three flexible deep-water pipe-laying support vessels. The award was made to the pair's 50/50 venture Sapura Nevegacao Maritima, following a competitive tender. Through the terms, Sapura Nevegacao will build, charter and operate the PLSVs for a firm period lasting eight years, with an option to extend for eight additional years. SapuraKencana Chief Executive Shahril Shamsuddin said that the three vessels would be equipped to lay flexible pipelines at water depths of as much as 3,000 meters. The vessels will be built outside of Brazil and are set for operational delivery starting in the second quarter of 2016.
Are these stocks a buy or sell? Let us help you decide. Check out our Stock Picker Newsletter now.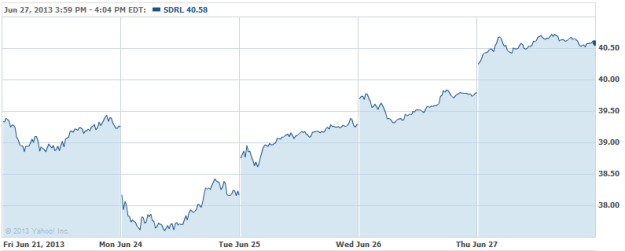 Don't Miss: Here's Why BP Wants Your Sympathy.