4 Energy Stock Stories Before the Weekend
Chevron Corporation (NYSE:CVX): Current price $114.52
On Thursday, the environment minister of Romania said that Chevron is close to starting the exploration for shale gas in the eastern part of the country near the border with Moldova, but still requires at least two more permits before it can begin drilling. Local authorities in Vaslui, where Chevron has a 1.6 million acre concession, have allowed the company planning permits for three shale gas exploration wells, but the government says that, "This document does not confer the right to carry out works. We are talking about exploration, not exploitation, and we are in the first phase of assessing an environment permit."

Cenovus Energy (NYSE:CVE): Current price $31.63
Cenovus is backing TransCanada Corporation's intention of shipping oil sands-derived crude to Eastern Canada through a converted natural gas pipeline when bids for capacity are called. The company's Vice President, Don Swystun, said on a conference call that, "We believe it is very important for the country, Canada, to move volumes to export off the East Coast as well as to Quebec for refineries there. So, we will be having a significant participation when that line goes to open season." Swystun added that his firm has committed volumes to several other proposed pipelines as well, including 175,000 barrels per day to the Enbridge Northern Gateway and Kinder Morgan Trans Mountain expansion projects and 150,000 barrels a day to TransCanada Corp's Keystone XL and Enbridge's Gulf Coast projects.
Are these stocks a buy or sell? Let us help you decide. Check out our Stock Picker Newsletter now.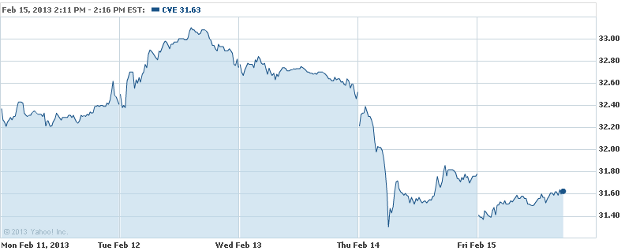 Royal Dutch Shell (NYSE:RDSA): Current price $65.49
Foster Wheeler (NASDAQ:FWLT) announced Thursday that its Global Engineering and Construction Group has reached a five-year global Enterprise Framework Agreement with Shell Global Solutions International. Through the terms, Shell can ask Foster Wheeler to provide support in the preparation of basic engineering packages for Shell distillation, hydrotreating, hydrocracking, thermal conversion, ethylene oxide, pyrolysis gas, fluid catalytic cracking and CANSOLV sulfur dioxide scrubbing. The parties have an option to agree to extend the accord for another five years. Foster Wheeler will record bookings as work orders are received from Shell.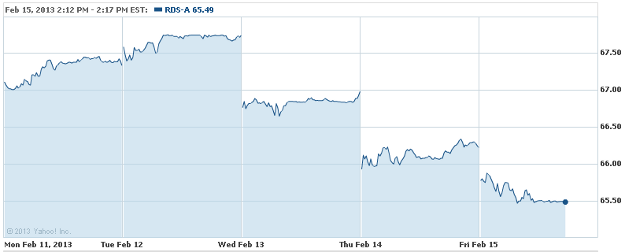 Apache Corporation (NYSE:APA): Current price $77.11
The corporation reports that a relief rig is en route to the site of an offshore-Louisiana well where natural gas has been seen flowing underground for over a week. United States media outlets are saying that non-essential staff were evacuated from the shallow-water well that was being drilled by Ensco 87 at Main Pass 295 in the Gulf of Mexico. Apache spokesman Bill Mintz afffirmed in an emailed response to Upstream that the well began flowing natural gas on February 4th, explaining that, "The well was shut in and the blowout preventers are functioning properly."

Don't Miss: Are Central Banks Still In Love With Gold?