4 Energy Stock Stories Busting Loose on Tuesday
BP (NYSE:BP): Closing price $45.90
Russia's number one crude oil producer Rosneft Oil Co. announced Tuesday its board had okayed arrangements to sell oil product cargoes to BP worth more than $6 billion, in addition to a previous deal to sell oil worth $5.3 billion. The Russian government-owned firm said in a filing that it would sell as much as 3.2 million tons of fuel oil to BP Singapore worth up to $2.6 billion from the Far East ports of Nakhodka or Vanino between November 2013 and December 2014, with a possibility to lift it in 2015. Rosneft has not reported the timeframe for other agreements, but a knowledgeable source said that the deliveries should be fulfilled during the next 12 or 13 months.

Baker Hughes Inc. (NYSE:BHI): Closing price $57.16
The oilfield services company Baker Hughes Inc. reported on Monday it has suspended operations in Iraq after a weekend protest at a facility close to the southern town of Basra. The company said it had issued 'force majeure' notices to its customers "due to the significant disruption of business," although there were no injuries from the incident on Saturday. Baker Hughes Chief Executive Martin Craighead, announced in a statement, "While we investigate this incident and until the work environment has stabilized, we are halting activities in Iraq."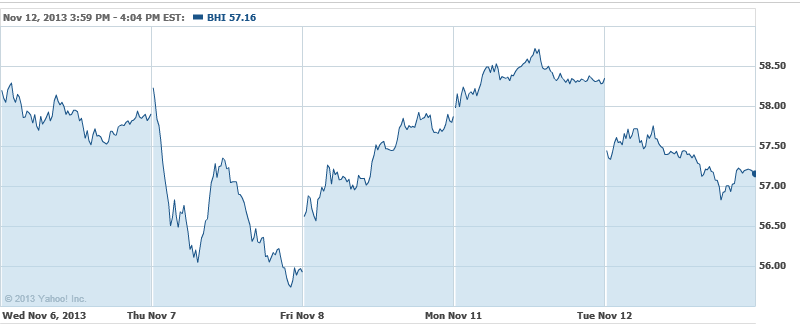 Aegean Marine Petroleum Network Inc. (NYSE:ANW): Closing price $10.41
On Tuesday, Aegean Marine announced that it will acquire the United States East Coast bunkering arm of Hess Corp. The transaction, at a purchase price of $30 million, along with an amount to be paid for inventory, is subject to the usual closing conditions and should be completed during the fourth quarter. This purchase not only represents Aegean's entry into supplying customers in the U.S. but also permits Aegean to meaningfully expand its global full-service marine fuel platform and grow its exposure to American clients worldwide, including top cruise lines.

BreitBurn Energy Partners LP (NASDAQ:BBEP): Closing price $19.05
BreitBurn Energy announced Tuesday that it has begun a public offering, subject to market and other conditions, of 15 million common units, representing limited partner interests in the partnership, which intends to grant the underwriters a 30-day option to buy up to an additional 2.25 million units. BreitBurn intends to use the net proceeds to repay indebtedness outstanding under its bank credit facility.

Investing Insights: Can BP Surge Higher?