4 Energy Stock Stories Driving Thursday Investment Chatter
BP (NYSE:BP): Closing price $41.67
U.S. Federal prosecutors have unveiled new criminal indictments against a former BP executive and a former BP engineer who are charged with obstructing investigations into the April 2010 Gulf of Mexico oil spill. The new indictment of the former executive David Rainey implies that he was aware of the congressional inquiry he was charged with obstructing, when he supplied false information not long after the spill to members of the House Committee on Energy and Commerce, including data regarding the rate that oil flowed from the ruptured Macondo well. In May, United States District Judge Kurt Engelhardt in New Orleans turned aside a count of obstruction of Congress against Rainey, partly due to the fact that it lacked adequate detail, which the revised indictment is meant to address.
Are these stocks a buy or sell? Let us help you decide. Check out our Stock Picker Newsletter now.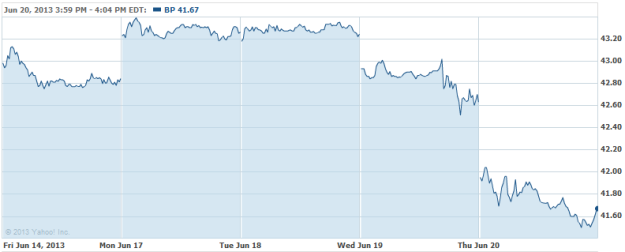 Seadrill Limited (NYSE:SDRL): Closing price $30.39
Seadrill has signed new contracts for building two high specification jack-up drilling rigs at Dalian Shipbuilding Industry Offshore Co., in China. The newbuild rigs should be delivered during the fourth quarter of 2015 and the first quarter of 2016, and the aggregate projected price-per-rig is roughly $230 million with tail-heavy payment terms. The two new rigs will be based on the F&G JU2000E design, having water depth capacity of 400 feet and drilling depth of 30,000. The rig builder now has a total of eight jack-ups under construction at DSIC Offshore, of which two are set for delivery this year, five in 2015, and one in 2016.
Are these stocks a buy or sell? Let us help you decide. Check out our Stock Picker Newsletter now.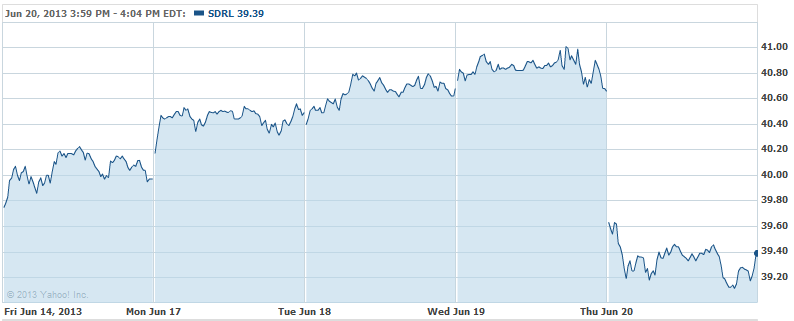 Chevron Corporation (NYSE:CVX): Closing price $117.97
Wells Fargo has begun coverage on Chevron shares with an Outperform and a price target of between $128 and $140. Analyst Roger D. Read commented that Chevron has robust output growth, attractive shareholder returns, and an impressive balance sheet, writing that its "rating reflects Chevron's market position, growth prospects, and current valuation. We value Chevron at 10.5-11.5x our 2015 EPS estimate of $12.55. We believe these valuation and target multiple ranges are justified based on the company's peer group and historical valuation metrics."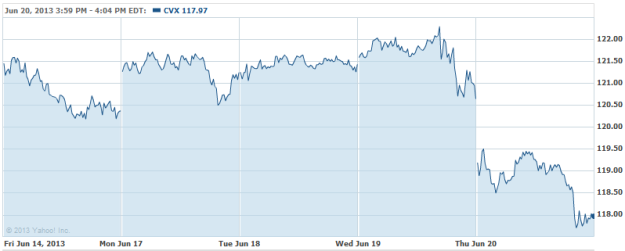 Capstone Turbine Corporation (NASDAQ:CPST): Closing price $1.10
On Thursday, the clean tech manufacturer of microturbine energy systems reported the first order for Capstone MicroTurbines in Slovenia, including two C200s to be installed at Sploana bolnianica Novo Mesto, which is the general hospital in Novo Mesto, Slovenia. Liabach, which is Capstone's distributor for Croatia and Slovenia, secured the order and will commission the units in the autumn. The C200s which will be installed on the hospital's rooftop, and will operate in a combined cooling, heating, and power application to reduce emissions, boost energy efficiency, and ensure reliable power generation for the 377-bed regional hospital.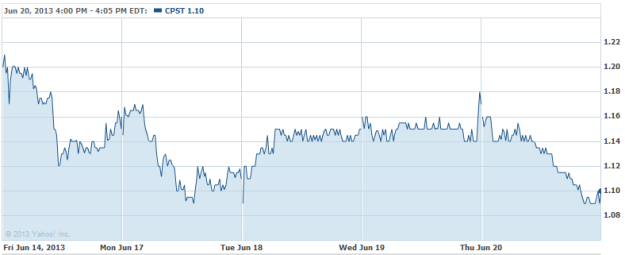 Don't Miss: Shell: Thieves Caused Nigerian Oil Spill.